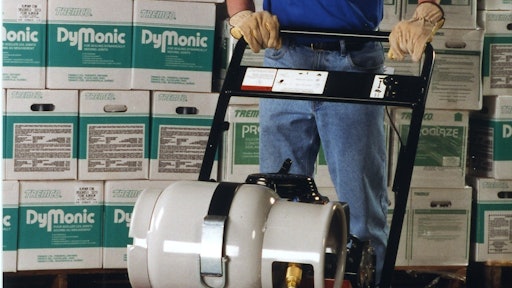 General Equipment Company's SG24/GHP Propane-Powered Surface Grinder is designed to break up soft to hard surface deposits, and to clean, polish or expose aggregate slabs. The propane conversion allows for use indoors when electric models are not an option.
 The twin counter-rotating discs can work a 24-inch by 12-inch area.
An increased wheel base places more weight over the rotating heads, meaning added pressure to the floor or work surface to produce better results.
The propane-powered SG24/GHP is also ideal for buffing and polishing terrazzo and marble surfaces, and for removing floor coatings, such as urethanes.
Powered by an industrial quality 11-horsepower Honda propane engine, the SG24/GHP features a dual V-belt/spur gear transmission.
The sturdy unitized, welded steel frame includes extra capacity self-aligning ball bearing units.
The operator can position the adjustable handle for individual height differences, and the caster wheel height adjusts to accommodate different multi-accessory options.
The SG24/GHP is available with a wide variety of attachments to accommodate many different job demands. Attachment options include scarifiers, wire brushes, grinding stones, Clean Sweep floor brush, CARB-A-TACH carbide grinding system, DIAM-A-TACH diamond segment grinding system and the SCRAPE-R-TACH coatings removal system.
Other optional equipment includes the PLAS-T-LOK attachment mounting wedge and the Safety and Dust Shield.
Request More Information
Fill out the form below to request more information about
General's SG24/GHP Propane-Powered Surface Grinder