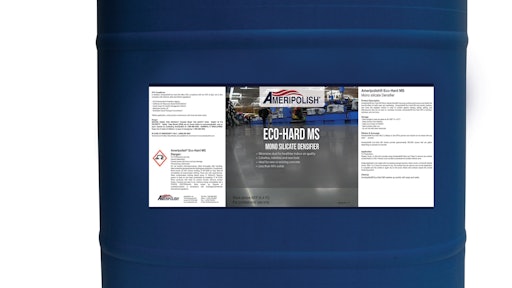 Ameripolish Eco-Hard MS Mono-silicate Densifier improves surface performance and resists the harmful effects of traffic wear and weathering. Ameripolish Eco-Hard MS dust proofs, hardens, and cures the targeted surface in order to protect against dusting, pitting, spalling, and efflorescence that can be seen on untreated concrete. Ameripolish Eco-Hard MS is odorless, colorless, and non-toxic.

Features:
 Ideal for new construction, existing concrete, and burnishing-only specs
Minimizes dust for healthier indoor air quality
Odorless, non-flammable, VOC Compliant
Helps reduce efflorescence and alkali silica reaction (ASR)
Contains 30% Solids

Ameripolish Eco-Hard MS can be used by itself or with Ameripolish dyes and stain protectors.

Harden concrete surfaces
Prepares surface for high gloss diamond polishing
Locks in dyes for longer lasting color
Dust proofs, hardens, and cures surface


Request More Information
Fill out the form below to request more information about
Ameripolish Eco-Hard MS Mono-silicate Densifier