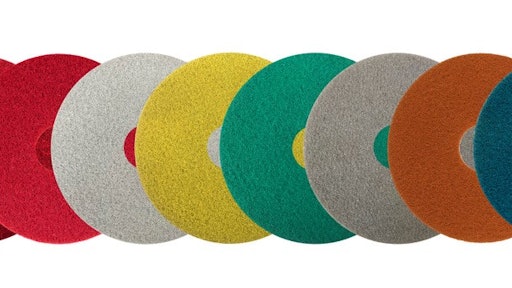 Superabrasive

SupraShine, the new generation of maintenance pads by Superabrasive,  were designed to restore and upgrade any floor, delivering outstanding results and savings.
Four types of pads for all your floor care needs, from deep cleaning and restoration to daily maintenance: 
SupraShine Regular 

— A range of pads featuring a flexible material to deep clean, upgrade, and maintain all types of coated and uncoated, hard and resilient floors. Available in grits 400, 800, 1,800, 3,500, and 8,000.

High-Performance — Pads featuring a flexible material for daily maintenance of high traffic floors.  Available in grits 800, 1,800, and 3,500.
Heavy Duty — Featuring a tough material meant for surface preparation and to remove extreme dirt - a real problem solver in difficult cases where more cleaning power is needed. Available in grits 220 and 400.
Hybrids — A complete range of tools from 50 grit to 400 grit designed to restore surfaces - eliminate stains, scratches and orange peel, and achieve a smooth surface. 
Additional Features
Simple and easy process with fast results.
No need for special equipment - use with auto scrubbers, buffers, burnishers. 
No chemicals required - use with water. 
Minimum environmental impact.
Offered in all popular sizes from 5-inch up to a 28-inch diameter.
Made in the USA
Request More Information
Fill out the form below to request more information about
SupraShine Maintenance Pads