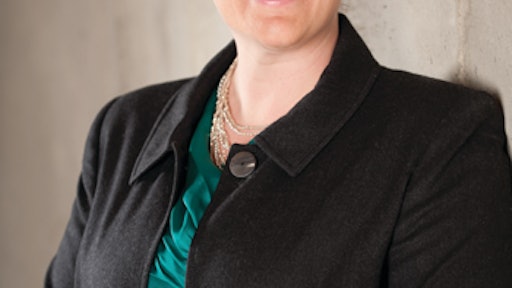 Joelle Lattimer, PE, a specialist in the design and use of concrete floors, is joining Ameripolish, Inc. as Vice President, Global Account Development, it was announced today by Ameripolish President Les Davis. Lattimer, who has consulted on floor system design for some of North America's biggest retailers, will begin at Ameripolish in March 2012. Ameripolish is the leading manufacturer of products for coloring, polishing, and maintaining concrete floors.
"We are lucky to be joined by a talent like Joelle Lattimer," stated Davis. "She is an expert on concrete floors who knows how to design them for maximum performance and beauty. We believe Joelle will best represent the benefits and architectural potential of exposed concrete floors to design professionals, building owners such as national retailers, and other decision-makers in the field."
Lattimer has been actively involved in the design of concrete flooring systems, most recently as an engineer with Structural Services Incorporated. She has specialized in design with vast capacities, with clientele that has included some of North America's largest big-box retailers. Her expertise in concrete floors includes sustainable flooring initiatives, concrete flooring specifications, site assessments, concrete chemical and tooling products evaluation, and developing efficient processes for polishing concrete. Lattimer was previously Structural Coordinator and Team Leader at BBR Architecture, and Project Engineer at Johnston Burkholder Associates. She holds a degree in Civil Engineering, Structure, from Michigan Technological University, and is a member of American Concrete Institute (ACI), the American Society of Civil Engineers (ASCE), and the Society of Women Engineers (SWE).
"Joelle's specialty is making concrete flooring work," commented Davis. "It coincides perfectly with the mission of Ameripolish. I cannot imagine a better person to reach out to designers and owners and help them achieve the beautiful, durable floors that can be made with concrete."
Companies in this article