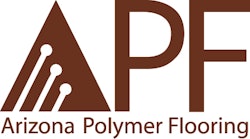 Arizona Polymer Flooring (APF), a manufacturer of high-performance flooring products and concrete coating systems, is proud to announce the addition of Jim Essig as technical director. He is based at the plant's headquarters in Glendale, Ariz.
Essig will be responsible for managing all aspects of the Research & Development Department, from formulating new products to implementing best practices and quality control.
Essig has more than 25 years experience in the coatings industry. Prior to joining APF, he spearheaded a coatings consultancy, Performance Coating Solutions, advising companies nationwide on R&D, quality control, purchasing, safety and compliance. He has also held technical director positions with Flame Control Coatings, Textured Coatings of America and Crossfield Products Corp.
"We are very excited to have Jim on board," said Daniel Owen, vice president of APF. "He's highly experienced in all phases of product development, from experimental design and synthesis through full production and installation. He will be an extremely valuable asset as we enhance our current concrete coating product lines and develop new ones."
Essig has earned an Associates of Applied Science in chemical technology from Middlesex College in Edison, NJ.
APF has manufactured high-quality concrete coating systems since 1985. It serves contractors, architects and end users nationwide. All APF products are field tested for performance and durability.