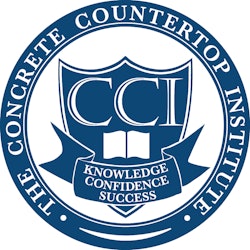 The Concrete Countertop Institute announced a new class lineup that includes both beginner and intensive concrete countertop training. In addition to its flagship five-day "Ultimate Concrete Countertop Training" for professionals ready to start a concrete countertop business, the Institute now offers:
"DIY Concrete Countertops," a one-day class for beginning contractors or homeowners. This class covers each step of precast concrete countertop making, using from-scratch mixes with ingredients readily available at a local hardware store. It shows how to use inexpensive equipment and still obtain a quality result.The class is designed for:
Concrete and decorative concrete contractors who want to try concrete countertops without a large financial investment
General contractors and remodelers who want to make concrete countertops for their own projects
Homeowners who want to make their own concrete countertops
Jeff Girard comments about the class: "Historically my classes have been geared only towards professionals whose primary business is concrete countertops. This class adds an option for beginners or those just testing the waters. I personally teach the class, and I keep it simple but not dumbed down. Students will learn how to create a quality countertop they can be proud of."
"GFRC for Pros," a two-day class for professionals. This class teaches the professional technique of glass fiber reinforced concrete to contractors who want to add concrete countertops to their business, and want an affordable training option without much time away from work. It is also ideal for concrete countertop makers who want to add the GFRC technique.
It covers all of the technical aspects of GFRC including from-scratch mixes for mist coat and backer coat, foam coring, spraying technique and exposed aggregate, as well as how to market and sell GFRC countertops and three-dimensional items.
Both classes and the five-day Ultimate class are available in Raleigh, N.C., and Melbourne, Australia, in August, September or October. Visit the Concrete Countertop Institute online for the class schedule.
Companies in this article