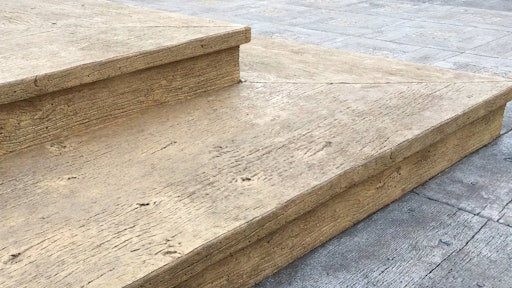 This innovative form liner for new concrete pours creates a cantilevered wood grain edge and textured rise with just one liner piece. The Wood One Piece Cantilevered Step Liner is made with a high quality urethane making it highly flexible for simple radius applications, easy to ship and durable enough to be used pour after pour. Several unique attributes make the liners user friendly.
The liner eliminates the need for complex forming to create a cantilevered step.
It allows steps to be framed using standard 2 x 6 lumber.
The liner has a 45-degree angle on the back leaving room to finish the step or slab below making it possible to leave the forms in place until the following day.
A specially designed corner piece is available for creating cantilevered returns.
Request More Information
Fill out the form below to request more information about
Wood One Piece 7 ¼" Cantilevered Step Liner from Butterfield Color