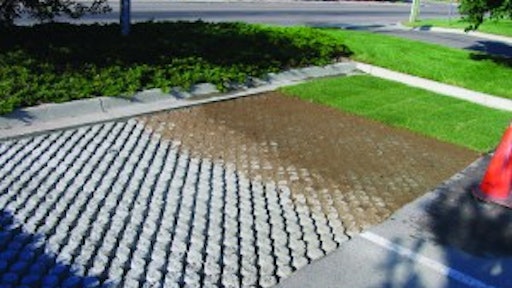 The old Kermit the Frog song "It's Not Easy Being Green" does not apply to the concrete industry. Many contractors are involved in sustainable initiatives both in their concrete services and their business practices.
Green is a broad concept lacking a formal definition. Kevin Johnson, founder and owner of K Johnson Construction in Sauk Raids, Minn., defines being a green contractor as being conscious of using alternative methods in construction and in your business operations.
Karen Van Heukelem, business developer for Colorado Hardscapes, Inc. adds, "Green concrete contractors use common sense to build smarter, more efficiently and with minimal impact on the environment."
Chris Klemaske, who works in project development with T.B. Penick & Sons Inc., says the company looks at the big picture when it comes to being green. "It's being aware of everything, from what kind of coffee cup you use to how the sealer we apply to our concrete affects the environment and our employees," she says.
"If you aren't already practicing 'green' building it would be in your best interest to start," says Scott Johnson, project manager for Gresser Companies, Eagan, Minn. "Because ready or not, it is where the industry is going."
Green concrete 
There are many ways concrete can be green. Recycled concrete can be broken down and reused in subbase material. Recycled materials, such as glass and porcelain, can be used in other concrete and decorative concrete elements such as floors, countertops, desks and more. K Johnson Construction is currently experimenting with using recycled glass in the subbase underneath pervious concrete.
Webcor Builders LLC., San Mateo, Calif., has a comprehensive wood reuse program in place on all of its concrete jobs. "With some forethought - a radial arm saw and a workbench - it is amazing how much wood can be reused on a job in the form of edge forms, rips, blockouts, handrails, or taken back to our yard for reuse on another job. We exhaust all reuse options before opting to recycle," says Ted Huang, sustainability engineer with Webcor.
Pervious concrete paving is perhaps one of the best known green concrete services. Pervious is designed to help with stormwater runoff. Contractors interested in installing pervious concrete can become certified installers through the National Ready Mixed Concrete Association's (NRMCA) Pervious Concrete Contractor Certification Program. Colorado Hardscapes, Inc. is currently working on a new pervious concrete that will offer a more decorative appearance, Van Heukelem says.
Another green concrete service is building with insulated concrete, either with ICFs (insulating concrete forms), insulated cast-in-place concrete, or even insulated tilt-up and precast structures. Insulated concrete helps in controlling the temperature of buildings, usually allowing for less heating and cooling needs.
Concrete paving can help reduce temperatures on the outside of the building as well, Scott Johnson says. The lighter surface of concrete reflects light better than asphalt surfaces reducing the heat island effect and keeping the surface of the pavement cooler. Van Heukelem also suggests decorative concrete contractors could use lighter pigments, and Klemaske suggests using integral colors with high SRI (solar reflectance index) values, to help with higher reflectivity.
Some contractors incorporate supplementary cemetitious materials (SCMs) into their mixes. These materials replace some of the portland cement required in concrete mixes and reuse industrial by-products like fly-ash and blast slag, Huang says.
John Lee, director of engineered sales for concrete material supplier Cemstone, says materials such as fly ash can help reduce the carbon footprint of a building while increasing the quality of the concrete. "If you want to get on board with the sustainability aspect, work with your material supplier and be willing to try new things," he adds.
Polished concrete floors are becoming increasingly popular because of their green aspects. With polished concrete floors, no carpet, tile, or adhesives are needed. They tend to require less maintenance than other floor surfaces as well. And, they can contribute toward LEED certification, Kevin Johnson points out. The polished concrete flooring business has taken off so well for K Johnson Construction that the company started a separate polished concrete division just for that service.
Decorative concrete is getting into the act as well. Colorado Hardscapes has developed a cast-in-place decorative concrete finish called Sandscape Texture. "It is a more sustainable finish option compared to the traditional acid washing, plus it provides more consistency," Van Heukelem says. The company also installs Grasscrete as an option for controlling stormwater runoff.
Both traditional and decorative concrete can contribute toward achieving LEED points and certification. Whether or not your project is working toward attaining LEED certification, using locally produced products and aggregates is yet another way to make your concrete services green. Using local products requires less driving, less fuel and less vehicle emissions.
Concrete contractors can get more involved in LEED by becoming LEED accredited. According to the United States Green Building Council, LEED accredited professionals "have demonstrated a thorough understanding of green building practices and principles and familiarity with LEED requirements, resources and processes."
"I started studying to become a LEED AP from a marketing standpoint," Van Heukelem says. "But the more I dove into the benefits and common sense of sustainable construction the more I believed in it from a best practices standpoint."
Green business
Contractors can also take steps to make their businesses and business practices green. Simple steps like changing to energy-efficient lighting and carpooling can help a business be greener. "We try to limit our electrical use by keeping lights off in areas that are seldom used, and we have censored lights in the rest rooms so they are only on when someone is using them," Scott Johnson says.
Webcor subsidizes 100 percent of all employees' public transit expenses to further incentivize reducing the jobsite carbon footprint and also pays for employees' cycling expenses to further promote alternative transportation, Huang says.
Setting up a recycling program at the office helps, too. Some contractors, like T.B. Penick, may also try to go paperless.
For contractors who want to go a step further, Johnson suggests researching alternative energy methods. K Johnson Construction has done some preliminary research into using both solar power and wind energy to power its office.
Lee suggests contractors just get involved whether it is with sustainable services or just getting involved in local green industry groups or attending seminars to learn more. "Those who get on board with green now will have more opportunities in the future," Lee says.
Whatever sustainable initiatives concrete contractors decide to pursue, Huang says they should look at sustainability holistically and not just piece by piece. Contractors should not only work on being more sustainable in both their field and office operations but also look at affecting positive green change within their communities and even their supply chain, he adds.
"Don't be complacent," Klemaske adds. "Being a greener company is not always the easy or inexpensive thing to do but it's the right thing to do."