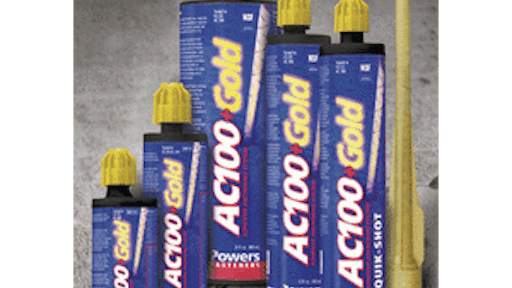 AC100+Gold Adhesive Anchoring System
Two-component, high-strength structural adhesive anchoring system meets IBC for strength design of concrete anchors
Can be used to bond threaded rod and reinforcing bar into solid concrete and masonry base materials and can also be used to anchor into hollow masonry materials using screen tubes
Low-odor formulation free of styrene and volatile organic compounds (VOCs)
Dispense with either a manual or powered dispensing tool
Ideal for cold and moderate weather applications and works well in damp/wet holes
Powers Fasteners, Inc.
Cutquik Cart
Designed for use with TS 400, TS 410, TS 420, TS 700 and TS 800 Cutquik cut-off machines
Improves handling and cutting performance with a forward-weight orientation
Toolless quick connect system
Especially useful when making long, straight cuts like expansion joints or squaring off edges in asphalt
Features include handle-mounted depth lever, adjustable handle bars and rubber dust guard
Stihl Inc.
FastFloor by Rhino Industrial
Two-component, hybrid polyurea coating system specifically formulated for commercial and industrial flooring
Rapid curing allows a return-to-service time of one day; light foot traffic in 2-4 hours
Apply with a hand-roller, brush or squeegee
Two formulations include FastFloor HB (high build) for industrial floors and FastFloor DF (decorative floors) which utilizes paint chips, colored quartz and other decorative flakes to create a unique floor
Zero VOCs and environmentally friendly
Excellent UV resistance
Rhino Linings
Fastrak Grinding Systems
Models include the Triple Trak 20, Three Head 20-in. and the Quad Trak 25, Four Head 25-in.
Gear driven planetary grinders
Single tension-clip seal fits tightly against the grinding surface and is virtually dust free when connected to vacuum systems
Ideal for removal of coatings, glues and applied products as well as grinding and polishing
Tool mounting design giving the option of using either magnetic quick disconnect tooling or standard mount tooling
Kut-Rite Manufacturing
FS-600 Portable Rebar Cutter/Bender
Will both cut and bend up to 3/4-in. (#6) grade 60 rebar
180-lb. machine
Plugs into standard 110 volts
Quickly cut rebar to length or accurately fabricate stirrups, hooks and 3-D bends at the jobsite or shop
Fascut Industries Inc.
HIPPO Porta Mix PMH 70F
Mix, transport and pour directly onto floor
15.5-gal. mix volume
Mixes cement screed, grout, mortar and more
1800W, 2-speed motor (140 rpm and 470 rpm)
Balanced, easy-tilt cradle for accurate placement of material
Easy operation by one person
CS Unitec, Inc.
Mapelite
Lightweight aggregate that reduces the weight and extends the yield of installations when used with specific Mapei mortars and self-leveling underlayments
High concentration of recycled materials
LEED compliant
Mapei Corporation Usa
Mini Mixer
Fits through 30-in. opening
3.5 cu. ft.
1/2-hp electric mixer
Polyurethane drum
Cleform Tool Corp / Gilson Mixers
MK-3000 Concrete Saw
The 650-lb. MK-3000 self-propelled concrete saw is powered by a 35-hp Briggs & Stratton Vanguard Big Block air-cooled V-twin engine or Kohler Command Pro 35-hp engine.
24-in. blade provides up to a 9.5-in. depth of cut or a 30-in. blade offers up to a 12.5-in. depth of cut
Utilizes a manual depth feed
Variable travel speeds of 0 to 220 fpm forward and 0 to 100 fpm reverse
Three-position adjustable handlebars
Heavy-duty shaft bearings
MK Diamond Products, Inc.
Pro Polish
Designed for use with popular models of single- and dual-head, low-speed surface grinders
Utilizes a series of seven 10-in.-diameter diamond polishing pads
Polishing pads range in composition from 50 to 3,000 grit
Simple operation caters to all types of users, from seasoned contractors to do-it-yourself homeowners
General Equipment
Smooth Operator Power Trowels
This full line of professional power trowels is available in 24-, 36-, 46- and 48-in. diameters.
Dynamically balanced with an extra-strong cast iron spider, rotating stabilizing ring and infinitely variable blade adjustments
Standard one-piece precision machined gear case with hardened worm gear and tapered roller bearings
Shock-mounted ring guard reduces vibration and chatter
Dyna-Clutch system stops blade rotation without shutting off the engine and delivers precision handling
Choice of Honda, Briggs, Robin and Wisconsin engines in four-blade models
Stone Construction Equip. Inc.
Spin screed
The Spin Screed can be custom cut into lengths up to 22 ft., yet can be carried and loaded onto a truck by a single person.
Complete 22-ft. unit weighs less than 100 lbs.
Consists of an aluminum pipe powered by a heavy-duty right angle electric drill
Can be used on stiff, low-slump concrete of only 3 in. or on concrete with a higher slump
Leaves aggregate immediately below surface, producing a high-quality, durable finish
Spin Screed
Ultra Surface Spray-Top System
Lets contractors apply any color cement like paint
Can be used over regular or polymer concrete, regular or 1/4-in. stamped concrete, interior floors prior to acid staining, decorative stencils, and Modello patterns
Concrete Solutions
Weld-Crete
Concrete bonding agent bonds to any structurally sound interior or exterior surface including concrete, stucco, tile setting beds and terazzo
Can be applied in a single application 1 hour to 10 days prior to concrete placement
Larsen Products Corporation