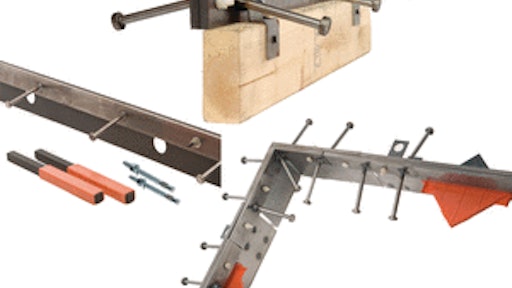 Armor-Edge Joint Assemblies
Edge protection systems for concrete flatwork in high-traffic areas, freezer buildings and when a jointless design is warranted
Ensures a smooth surface transition for forklift traffic
Reduces long-term floor and fork truck maintenance costs
Available for new construction, for installation in conjunction with a removable bulkhead or as a fully fabricated leave-in-place form and for transitions from new to existing slabs
PNA Construction Tech., Inc.
BP-50 Backpack Concrete Vibrator
Totally enclosed rotary throttle allowing operator to control engine while preventing wet concrete from entering and clogging throttle mechanism
Kill switch located on handle
Patent pending rotary throttle designed and engineered to eliminate operator's variable setting of engine speed ensuring unit will consistently produce proper vibrations per minute
Comes standard with Quick Disconnect "QD" system and Honda gasoline engines
Vibrator heads develop 12,000 vpm and never drop below 10,000 vpm even in heaviest low slump concrete loads
Handles heads up to 2 1/2 in.
Oztec Industries Inc.
Electric Flex Shaft Vibrators
These electric flex shaft vibrators feature an aluminum ribbed cast housing, heavy-duty vibration isolators and a double bar frame.
Protected air inlet prevents concrete clogging
7/8- or 1 3/16-in. diameters
2-, 5-, 7-, 10-, 14- or 21-ft. lengths
Interchangeable between Honda Back Pack and Electric Vibrator Head
Six sizes ranging from 3/4- to 2 3/8-in.
Minnich Mfg. Inc.
FR-800-C Rebar Bender/Cutter
The model FR-800-C will both cut and bend up to and including #8 (1-in. diameter) grade 60 rebar.
Self-contained hydraulic machine plugs into a standard 110-volt outlet
Combines a rotary bender with a heavy-duty shear
Cut bars to length and fabricate stirrups, hooks and 3-D bends on site or at the shop
Fascut Industries Inc.
Mixer Attachment
The hydraulic spiral mixer from Blastcrete is designed for plaster, mortar, snhotcrete and aggregate concrete mixtures. The mixer offers high speed blending, side discharge and is universal with any skid steer with 12 gpm. Features include a universal mounting plate, 4-ft. chute and manual hydraulic controls.
Blastcrete Equipment
Mobile Concrete Mixers
These mobile concrete mixers provide the ability to control your concrete needs by producing your own concrete.
Eliminate waste by producing only the concrete required when it's needed
Produce new concrete technologies including pervious concrete
Cemen Tech Inc
Portable Cement Mixer
Available in hydraulic or 110 VAC Electric models
110 lbs., 40-in. tall
Shatter-proof plastic drum with drum rpm of 31
Flow requirement for the mixer is 5 to 8 gpm
Maximum pressure is 2,250 psi.
225 lb. and 500 lb. capacities
Access Construction Equipment / Miniveyor USA
Quik Mix Pro Hopper Truck
Material hopper with chain belt discharge
Available in 5-, 6-, 8- and 10-cu. yd. capacities
10-cu.-ft. capacity continuous mixer
14-cu.-ft. capacity cement hopper with electric vibrator
200-gal. capacity water tank
Swing-out style mudjacking pump carriage stows any HMI pump safely for transporting
Hydraulic Mudpumps
RB515 Rebar Tying Tool
The RB515 Rebar Tying Tool from Max USA is designed for tying large size rebar, from #5 x #5 up to #8 x #7 rebar. An adjustment dial allows you to select either three or four wraps per tie, and the tool cuts and twists in one second. The RB515 weighs only 5.2 lbs. and can reduce costs up to 1/5th of current budgets.
Max USA Corp
Rebar Benders and Cutters
Powered by 10,000 psi hydraulic pumps
Operate with a single hand
Bend or straighten rebar up to 135°
All models rotate 360°
Bending and cutting capacities of #6, 3/4" or #8, 1" 60-grade rebar
EZE Bend
Rebar Cutter Blades
Rebar Blades offers replacement cutting blades for all makes and models of rebar cutters. Blades are in stock and ready to ship the same day they are ordered. And if blades for your model are not currently available they can be made and then stocked for you.
Rebar Blades LLC
Stow Collomix
Line of 10 mixing systems for products ranging from grout, concrete and mortar to paint, epoxy dyes and more
Six single- or dual-speed handheld models in single- and dual-shaft configurations
Four hand-guided mixing stations with 2- to 3-cu.-ft. bucket capacities with a roller-mounted stand and a five-point base
Use forced-action mixing technology for effective mixing from bottom up, top down or parallel, depending on paddle model
Multiquip Inc.
Wallbrator
The Wallbrator from LiteForm Technologies is an ICF wall vibrator that attaches to any 1/2-in. electric or cordless drill. Combining a high speed and low impact vibration, the wallbrator
insures good consolidation of concrete with one pass. Sizing in at just under 3 lbs. and a
length of 7 in., this tool is lighter weight and more compact than other traditional external
vibrators. The grip design offers installers a comfortable non-slip feel when operating under
any weather condition.
LiteForm Technologies
Water Chillers
Sioux's water chilling systems for concrete production allow concrete to be produced in hot weather. The chiller are air-cooled and available in several sizes that can be stationary or portable. Precise control of water temperature and volume of water create a continuous flow of cold water going into the mix.
Sioux Corporation