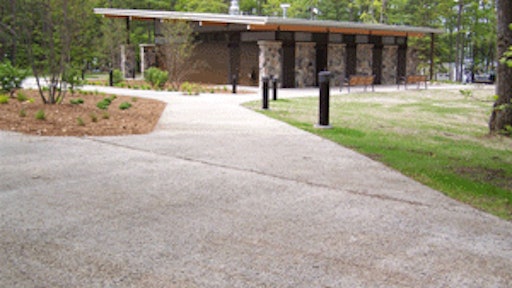 Of course concrete is made to be tough and impenetrable, but now a new type of concrete is actually designed to be porous. This unique twist has the State of Michigan and others taking note as they seek ways to save land, dollars, and the environment -- without sacrificing strength and durability.
Pervious concrete lets the "river run through it," so to speak, so that rainwater returns to and replenishes groundwater, instead of creating puddles and stormwater runoff, an environmental liability.
The State of Michigan recently hired Traverse City-based Team Elmer's to provide pervious concrete at five campsites and a bathhouse at Otsego Lake State Park in Gaylord, Michigan. The test project was the first state park in Michigan to utilize the new product. In past years, campers would complain about "rivers" that resulted from heavy rains, making paths difficult to travel, and transporting water, soil, and possible pollutants to the nearby lake. This season, those campers will be delighted to note safe, flat, dry concrete surfaces -- ideal for firepits and walking -- and free of stormwater runoff.
Other commercial and municipal users like pervious concrete's ability to save space. Instead of having to create retention ponds to collect stormwater runoff, this new solution makes more efficient use of the land, and meets U.S. Environmental Protection Agency (EPA) stormwater regulations. In fact, the use of pervious concrete is among the Best Management Practices (BMPs) recommended by the EPA and by other agencies and engineers across the country for the management of stormwater runoff.
In pervious concrete, carefully controlled amounts of water and cementitious materials are used to create a paste that forms a thick coating around aggregate particles. A pervious concrete mixture contains little or no sand, creating a substantial void content. Using sufficient paste to coat and bind the aggregate particles together creates a system of highly permeable, interconnected voids that drains quickly.
Using material supplied by Team Elmer's, Concrete Cystems -- also of Traverse City -- placed pervious concrete 6 inches deep throughout the State Park. The pervious mix was installed using methods much like those of standard concrete, but the team employed the use of a pervious-specific roller screed for the entire 8,100-square-foot project.
"This is a great product that has an immediate market and applications," says Team Elmer's Regional Sales Manager Dan Beckelic.
Team Elmer's, a family owned company since 1956, specializes in site development, including excavation, earth moving, underground utility installation, retaining wall construction, directional boring, manhole rehabilitation, aggregate production, concrete ready-mix, asphalt installation (commercial and residential), milling, and crane/rigging, among other specialties. Today, Traverse City, Mich.-based Team Elmer's has grown to include over 320 skilled personnel.
To learn more about pervious concrete, call (231) 943-3443 or e-mail info@teamelmers.com.