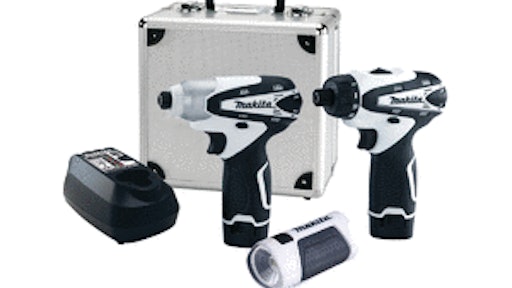 10.8V Compact Cordless Combo Kit
10.8V, Lithium-Ion Compact 3-Piece Cordless Combo Kit
Flashlight, driver-drill and impact driver
Energy Star rated battery charger and two Lithium-Ion batteries
Driver has a 1/4-in. hex driving shank and motor delivers 200 in. lbs. of torque with two speed settings
Impact driver has 0 to 3,000 impact per minute and motor that delivers 800 in. lbs. of torque
Makita USA, Inc.
880F4 Concrete Saw
The 880F4 hydraulic concrete saw offers bar lengths up to 25 in. and comes standard with the FORCE4 guidebar and drive sprocket, enabling it to drive larger chain.
Makes square corners with no overcuts
Flush cut version (8804F-FL) allows for cuts within 3/16 in. from walls or floors
8-gpm configuration generates 11.5 hp and 122 (880F4) or 130 in.-lbs. (880F4-FL) of torque
12-gpm configuration generates 17.5 hp and 172 (880F4) or 207 in.-lbs. (880F4-FL) of torque
88-db noise level at 3 ft.
ICS, Blount Int'l. Inc.
FiberRigg
The FiberRigg fiber-reinforced polymer crane outrigger pad is able to hold up to 125,000 lbs.
Continuous glass fibers provide maximum strength and stiffness
Polymer makeup resists chemicals and water degradation
Light weight for easy transportation and use
Features embedded nylon strap handles and a non-slip wear surface
Available in safety yellow or custom colors, circular or rectangular shapes, standard or custom tailored sizes and in bio-resins such as corn and soy
Composite Advantage
K-Series Gas-powered Compressors
The K-Series gas-powered, wheeled compressors include four models delivering 8.9 cfm at 100 psi or 8.6 cfm at 125 psi.
5.5-hp Honda GX engines with recoil or electric start
Incorporate the "K" pump, a heavy-duty, single-stage, cast iron compressor pump
Four air tank configurations (8, 15, 17 and 30 gal.)
Belt driven with a large flywheel for easy startups and extra cooling
Lifting handles and pneumatic tires enhance portability
Jenny Products
Kelken PowerPush
Kelken's PowerPush is the first battery operated dispensing gun for two component adhesives and sealants.
Can dispense and evenly mix even the most viscous two-part epoxies in both hot and cold temperatures
Variable dial controls for dosing and speed
Anti-drip feature eliminates messy run-on by automatically reversing the pistons when trigger is released
Kelken Construction Systems
LiftPod
The LiftPod combines the portability of a ladder with the stability of a work platform.
Enclosed platform with a work tray and a 14-ft. working height
Can be transported between work sites in a truck, and around the work site on wheels
Each of the three modules weighs about 50 lbs. and can be assembled in less than 30 seconds
Elevation controlled by a battery-operated drill or optional battery pack
JLG Industries, Inc.
Model 210B Series On-Grade Concrete Drills
E-Z Drill's line of on-grade concrete drills includes two models that drill to a standard 18-in. depth. The Model 210B and Model 210B-2 have been specifically designed for straight-line drilling on a level subgrade and are ideal for lane additions, large patchwork jobs and airport work. The single-gang Model 210B and two-gang Model 210B-2 can operate within 6 in. of a corner. The 210B requires 100 cfm while the 210B-2 requires 200 cfm. Features include quick-release bit guides, a patented roller bearing feed system and safety features such as carriage locks and auto-lock couplers.
E-Z Drill, Inc.
Model 603 Professional Sprayer
18-in. curved brass extension
Easy fill funnel top
4-ft. Chemical resistant hose
Repairable pump with heavy-duty metal handle
Comes with brass fan spray tip
Heavy-duty carrying strap included
5-year tank warranty
B&G Equipment Company
Norton Clipper GC55
The Norton GC55 Multipurpose Saw is a compact, light weight design ideal for decorative concrete cutting or many other applications. The low, wide profile frame and a front mounted blade both contribute to producing a more disciplined cut. Soft, platinum concave shaped wheels based off a Norton patent ensure smooth, free cutting operation.
Saint Gobain Abrasives
Power-Stud+SD2
One-piece fully threaded, wedge anchor
Designed for cracked concrete and other masonry applications
Available in 3/8-, 1/2-, 5/8-, and 3/4-in. diameters
Powers Fasteners, Inc.
Rapid RH Long Reader
Wagner's Rapid RH Long Reader measures relative humidity in concrete slabs. The 5-in. long device was specifically designed for measuring slabs thicker than 4 in., but it's longer length makes it ideal for any test depth.
Wagner Electronic Products, Inc.
SuperDuty Blanket
Outdoor, electric-heated thawing and curing blankets
Available in four sizes
Overnight thaw depth of 10 in.
Target temperature range of 60 degrees to 80 degrees
120 volts
Powerblanket, LLC