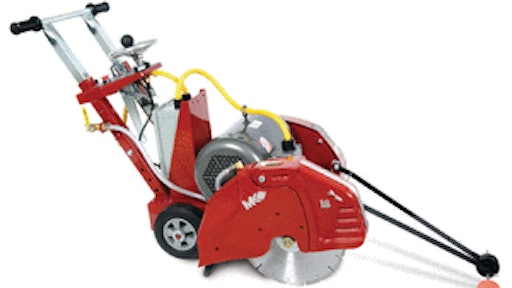 18-in. Dry Cutting Walk-Behind Saw
MK Diamond's 18-in. dry cutting walk-behind saw features a 10-hp Baldor 3 phase electric motor and is available with 230V or 460V. It has a 6 5/8-in. cutting depth and a 14-in. dry cutting blade. The cast-aluminum hinged blade guard mounts on the left- or right-hand side of the saw and cuts within 2 in. of wall.
MK Diamond Products, Inc.
633F4 Gas-powered Concrete Chain Saw
The 633F4 gas-powered concrete chain saw comes standard with the F4 package, featuring a FORCE4 sprocket, guidebar and diamond chain.
Able to plunge cut up to 16 in. deep and make square openings with no overcuts
101cc, 6.5-hp, two-stroke, single-cylinder, air-cooled engine
Features slurry-resistant crankshaft sealing, dust-proof air filtration and water-resistant electronic ignition
Wet cutting system reduces hazardous dust
Built-in WallWalker provides leverage to reduce fatigue and extend chain life.
ICS, Blount Int'l. Inc.
Core Cut CC150-EE Green Saw
The Core Cut CC150-EE early entry green walk-behind concrete saw is powered by a 4.8-hp Honda GX-160 engine.
6-in. blade with 1-in. arbor offers a maximum cutting depth of 1 3/16 in.
Patent-pending skid plate adjustment mechanism
Mechanical blade depth control
Includes two front polyurethane, non-marking wheels for greater stability
Diamond Products
CS 536163-2 Pneumatic Concrete Chain Saw
The CS 536163-2 plunge cuts up to 15 in. deep in one pass and quickly cuts mechanical openings, irregular shapes and square corners up to 14 in. with no overcuts.
Suited for cutting reinforced concrete, brick, block, concrete pipe and natural stone
Standard AirFORCE F4 diamond saw chains offer larger diamond segments and 50% greater tensile strength
10- or 15-in.-long guidebars with laser-cut internal water channels keep the bar lubricated and help to remove slurry
6.5-hp air motor has a no load speed of 5,700 rpm
CS Unitec, Inc.
CS8 Random Crack Saw
The CS8 Random Crack saw is designed to follow random crack patterns in concrete surfaces.
Produces smooth-sided cuts for proper crack filling
8-in.-diameter cutting blades
11-hp Honda engine
Center-mounted blade configuration for easy pivot
Infinitely adjustable blade height control
General Equipment
Cylinder Assemblies
Each cylinder assembly comes complete with piston, rings, pin and clips
Assemblies to fit Stihl, Husqvarna, and Partner models
Compatible plugs, gasket sets, crankshafts, crankshaft bearings and sprocket bearings also available
Stens Corporation
Diamond Blades & Core Bits
EDCO now offers a complete line of diamond blades to complement its product offerings. Standard quality up to Premium Pro level diamond blades are available for all EDCO products. These blades can cut concrete, asphalt, masonry materials or tile. High-speed blades, crack saw blades and other specialty blades are all available.
EDCO Equipment Development Co.
FS1C-18 Floor Saw
The FS1C-18 Floor Saw features a low center of gravity and weight distribution arranged to eliminate flex and vibration during operation.
Cutting depth gauge calibrated for blade size
Heavy-duty, two piece, hinged, spring-tensioned blade guard features positive up or down positioning and mounts to either side
Features include an adjustable guiding handle, fluted, removable water manifolds that deliver up to 5 gpm and an optional water tank conversion kit
MBW Inc.
K 3000 Electric Cut-n-Break
The K 3000 Electric Cut-n-Break is able to cut in stages through walls up to 16 in. thick, making it suited for window and door openings, crack chasing, joint repair and more.
Sliding guard can be positioned to flush cut
12V, 15-amp electric motor
Wet cutting system supplies enough water to suppress dust but not cause excessive slurry
Includes Elgard overload protection and SoftStart for gradual starting
Husqvarna Construction Products
Saw Devil CSP3
The Saw Devil CSP3 self-propelled concrete saw is ideal for parking lots, driveways, streets, floors and other building and restoration projects. Features include: hydrostatic drive delivered by a triple V-Belt configuration; weighted, self-locking blade crank; heavy-duty front 4-in. wheeled guide and rear cutting pointer; and optional water pump. The CSP3 accepts 14- to 20-in. blades for maximum depth cuts up to 7 5/8 in. Engine options include: 13-hp Honda with cyclone air clearner, 18-hp Honda Twin and 20-hp Honda -both with remote cyclone air cleaners, and 16-hp Briggs & Stratton Vanguard.
Stone Construction Equip. Inc.
Shoxx G13
The Shoxx G13 blade is designed to cut hard materials without spalling. With its trapezoid shape of the G13's 16 segments it has a special feature of a 20% reduction in vibration compared to a standard blade. A range of Shoxx cup wheels is also available to help increase the yield. The wheels include the Z U5, Z A5 and the C E5, which are made using segments welded by electro-induction.
Shoxx Technology
Side Winder II Diamond Blades
Available in 12- and 14-in. models
Ribbed core reduces friction and heat while providing faster cutting and application versatility
T-shape diamond segment design enhances fast cutting performance
Ideal for cured concrete, brick, block, asphalt and green concrete as well as a variety of other materials
Multiquip Inc.
TS 410 and TS 420 Cutquik
The 12-in. TS 410 and 14-in. TS 420 Cutquik cutoff-machines feature the X2 Air Filtration System, which delivers 99.96% clean air to the machine.
Anti-vibration system reduces vibration by 43%
Advanced engine technology increases fuel efficiency and reduces emissions by 43% compared to previous models
IntelliCarb compensating carburetor system
ElastroStart starting handle with built-in shock absorber
Upright, large-capacity fuel tank with a 20% longer run time
Stihl Inc.
Companies in this article