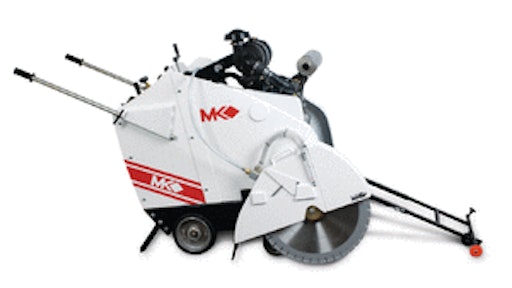 880F4 Concrete Saw
The 880F4 hydraulic concrete saw offers bar lengths up to 25 in. and comes standard with the FORCE4 guidebar and drive sprocket, enabling it to drive larger chain.
Makes square corners with no overcuts
Flush cut version (8804F-FL) allows for cuts within 3/16 in. from walls or floors
8-gpm configuration generates 11.5 hp and 122 (880F4) or 130 in.-lbs. (880F4-FL) of torque
12-gpm configuration generates 17.5 hp and 172 (880F4) or 207 in.-lbs. (880F4-FL) of torque
88-db noise level at 3 ft.
ICS, Blount Int'l. Inc.
Concrete Saws
The CS1 and CS2 manual and CSP3 self-propelled Saw Devil concrete saws are available in sizes and configurations for concrete and asphalt flat sawing to depths of 7 5/8 in.
Vibration-reducing, all-steel box frame
Ergonomically designed, adjustable handles with padded hand grips and hip control bar
Positive feed, self-locking acme screw to raise and lower the blade quickly
Non-corrosive dual spray water system
Easy to remove, heavy-duty blade guard contoured to reduce slurry buildup
Optional see-through 5-gal. polyethylene water tanks
Stone Construction Equip. Inc.
Core Cut CC150-EE Green Saw
The Core Cut CC150-EE early entry green walk-behind concrete saw is powered by a 4.8-hp Honda GX-160 engine.
6-in. blade with 1-in. arbor offers a maximum cutting depth of 1 3/16 in.
Patent-pending skid plate adjustment mechanism
Mechanical blade depth control
Includes two front polyurethane, non-marking wheels for greater stability
Diamond Products
CS 536163-2 Pneumatic Concrete Chain Saw
The CS 536163-2 plunge cuts up to 15 in. deep in one pass and quickly cuts mechanical openings, irregular shapes and square corners up to 14 in. with no overcuts.
Suited for cutting reinforced concrete, brick, block, concrete pipe and natural stone
Standard AirFORCE F4 diamond saw chains offer larger diamond segments and 50% greater tensile strength
10- or 15-in.-long guidebars with laser-cut internal water channels keep the bar lubricated and help to remove slurry
6.5-hp air motor has a no load speed of 5,700 rpm
CS Unitec, Inc.
FS1C-18 Floor Saw
The FS1C-18 Floor Saw features a low center of gravity and weight distribution arranged to eliminate flex and vibration during operation.
Cutting depth gauge calibrated for blade size
Heavy-duty, two piece, hinged, spring-tensioned blade guard features positive up or down positioning and mounts to either side
Features include an adjustable guiding handle, fluted, removable water manifolds that deliver up to 5 gpm and an optional water tank conversion kit
MBW Inc.
Hydraulic Cut-Off Saws
The SAW 16 hydraulic-powered cut-off saw features a 16-in. blade and cuts to a depth of 6.3 in., while the SAW 14 has a 14-in. blade with a maximum cutting depth of 5.2 in.
Suited for cutting concrete, asphalt, cement, brick and steel
Features include a simple direct-drive configuration and adjustable blade guard
Power source can be positioned as much as 75 ft. away
Available with lightweight, easy-to-use cart
Chicago Pneumatic Tool Co.
K 3000 Electric Cut-n-Break
The K 3000 Electric Cut-n-Break is able to cut in stages through walls up to 16 in. thick, making it suited for window and door openings, crack chasing, joint repair and more.
Sliding guard can be positioned to flush cut
12V, 15-amp electric motor
Wet cutting system supplies enough water to suppress dust but not cause excessive slurry
Includes Elgard overload protection and SoftStart for gradual starting
Husqvarna Construction Products
LS 14 and LS 16 Cut-Off Saws
The 14-in. blade on the LS 14 hydraulic-powered cut-off saw provides a cutting depth of 5.3 in., while the 16-in. LS 16 offers a cutting depth of 6.3 in.
Designed for cutting through concrete, asphalt, cement, brick and steel
Power-on-demand system automatically decreases the pack's engine speed when a tool is disengaged
Simple direct-drive design provides consistent speed and torque
Hydraulic power packs are small enough to transport by pickup truck and can be positioned up to 75 ft. away
Atlas Copco Construction Equipment LLC
MK-4000 Water-cooled Concrete Saws
This line of self-propelled concrete saws features low-vibration, water-cooled engines meeting CARB and EPA emission standards.
MK-4000HY features a 48-hp Hyundai 416 four-cylinder in-line, DOHC, liquid-cooled gasoline engine
MK-4000KB has a 44-hp Kubota V1505-T-E3B, four-cylinder in-line, turbocharged, liquid-cooled diesel engine
Available with 18-, 24-, 30- and 36-in. blade guards
Include a T-handle traverse control and variable plunge speed control
MK Diamond Products, Inc.
TS 410 and TS 420 Cutquik
The 12-in. TS 410 and 14-in. TS 420 Cutquik cutoff-machines feature the X2 Air Filtration System, which delivers 99.96% clean air to the machine.
Anti-vibration system reduces vibration by 43%
Advanced engine technology increases fuel efficiency and reduces emissions by 43% compared to previous models
IntelliCarb compensating carburetor system
ElastroStart starting handle with built-in shock absorber
Upright, large-capacity fuel tank with a 20% longer run time
Stihl Inc.
WS Series Walk-Behind concrete saws
The WS-Series walk-behind concrete saws include seven models with 12- to 36-in. blades and cutting depths from 4.6 to 15 in.
8- to 20-hp Honda (WS14, WS14C, WS16C, WS18 and WS20) or 31- or 57-hp Deutz (WS26D and WS36D) engines
Manual propulsion with recoil starting or hydrostatic propulsion with electric starting
Larger, screw-type depth control
Multi-belt drive delivers power smoothly with less vibration during operation
Universal dual 1-in. arbor with drive pin allows cutting from either side
Heavy-duty, seven-gauge steel frame and steel splashguards
Doosan Infracore Portable Power
Companies in this article