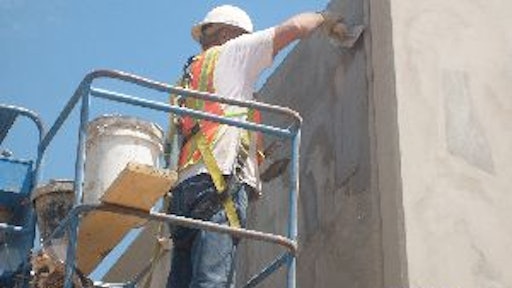 Expected to create approximately 500 new jobs and generate more than $185 million in annual retail sales, The Promenade Shopping Center in D'Iberville, Miss., is a welcome addition to an area that realized tremendous destruction from Hurricane Katina in 2005.
Construction for the 700,000 square-foot premium retail development began last summer on a 72-acre site, just west and north of the Sangani Boulevard retail center at the northwest corner of I-10 and I-110. Once complete, The Promenade will have 11 major anchor stores, with 80,000 square-feet of specialty shops and restaurants. Stores and restaurants at the Promenade will include Target, Best Buy, Dick's Sporting Goods, Michael's, Marshalls, Kohl's and an Olive Garden. Better yet, in a news report, D'Iberville City Manager Richard Rose said The Promenade will result in approximately $2.4 million yearly in sales and ad valorem taxes.
In order to meet the fast-track construction schedule and ensure long-term durability, site-cast tilt-up construction was selected as the building method. Phillips Partnership of Atlanta, Ga., was chosen as the architect and, EMJ Corporation of Chattanooga, Tenn. was selected as the general contractor. And, in order to ensure a quality finish under a tight construction schedule, Foundation Contractors, Inc., the concrete contractor, selected Rapid Set® Cement All™ to fix all spalls and detail repairs on all wall panels, which totalled approximately 1 million square feet (wall panels and slab). Proven to save time because it is faster-setting, gaining structural strength in one hour, Rapid Set Cement All guarantees more durability and less shrinkage. According to Jose M. Ruiz, CTS Cement Contractor Sales, Cement All was the optimal solution to repair areas of the damaged panels while the panels were being erected because it is faster and stronger than conventional Portland cement products.
Originally introduced in 1981, CTS Cement Manufacturing Corporation's Cement All can be used for almost any type of concrete work including general concrete repair, casting, underlayments, doweling, anchoring and industrial grouting. Developed as a high quality, easy-to-use, multi-purpose repair material, the product is formulated with Rapid Set cement (a rapid hardening hydraulic cement that offers reduced shrinkage and superior resistance to chemical attack) and fine-graded sand. Durable in wet environments, Cement All can be applied from featheredge to four-inches thick. It sets in 15 minutes and exceeds 3,000 psi in one hour and 9,000 psi in 28 days.
According to Maritza Perez, President of Tilt Wall Finishers, the company responsible for all patchwork and repairs over 1/2-inch deep, Cement All was selected because it is a very reliable product that is easy to apply. Bonding agents are not necessary and proper surface preparation is the main component in achieving a good bond. Application is effortless; simply roughen the concrete surface and remove the damaged or contaminated concrete as well as any oil, paint, acids, dirt or materials that will prevent a good bond. When mixing Cement All, just add water. Prior to placing, saturate the concrete repair surface with water and remove any of the standing water. After preparing the concrete surface, proceed by mixing the Cement All concrete. Since the product is fast and does not bleed water, the final finish can be applied immediately after placing. Then water cure the concrete repair area to maintain a wet surface until the Cement All has achieved sufficient strength. Begin curing as soon as the surface has lost its moist sheen and continue to cure for a minimum of one hour. The color of Cement All can be modified by using color pigments and stains designed for use in regular cement mixes.
"As compared to other mortar patching products, Cement All doesn't require a separate glue application. And, since the required pH levels are met in three days, as compared to 28 days for other products, the painters can start earlier, which is cost effective for my company as well as the owner as the construction schedule is accelerated," said Perez.
Perez said that the key to success is not only mixing and applying the product properly, but always using a product you can rely on backed up by excellent technical support as needed.
Marvin Brandt of Foundation Contractors, the project's concrete contractor, stated that the quality of Cement All allowed them to save time.
"Cement All definitely accelerated the whole construction process from start to finish and therefore, saved us time and money," said Brandt.
In addition to using Cement All, CTS Cement's WunderFixx® product was used for all skim coating and detail work. This hydraulic cement is not only cost-effective, but when mixed and applied properly, it is very smooth. WunderFixx is sandable within the first 24 hours and paint can be applied in 16 hours.
Cement All is sold in 55-pound bags, 25-pound boxes, and 10-pound boxes. WunderFixx is sold in 50-pound bags and 9-pound boxes. Rapid Set products are available nationwide through contractor supply yards and home improvement centers.
The Promenade Shopping Center is expected to open this fall.
About CTS Cement Manufacturing Corporation
CTS Cement Manufacturing Corporation is the largest manufacturer of specialty fast setting cement and shrinkage-compensating cement in the United States. As the leader in advanced cement technology, CTS provides innovative products to the construction industry through continual research and development. Rapid Set is a brand of fast setting cement products well known for its versatility and high performance. It gains structural strength in one hour, has superior durability, and low shrinkage. Rapid Set offers a full line of premium products for concrete repairs and new construction projects. For more information, visit www.ctscement.com.