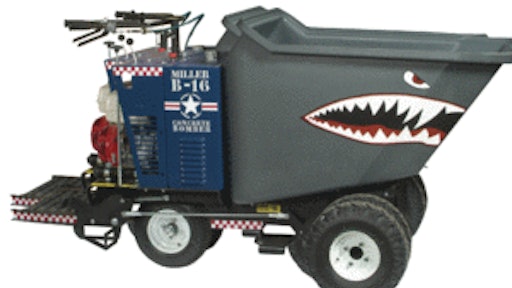 B-16 and B-21 Concrete Bombers

The B-16 and B-21 Concrete Bombers are updated concrete buggies for various construction and concrete applications.
Models sport a retrograde, military-inspired theme
Shipped standard with an aggressive "sharks teeth" design molded into the bucket
Design represents a bold cosmetic makeover of the overbuilt, heavy-duty Scoot Crete buggies
Miller Spreader Company
Canycom Rubber Track Concrete Buggy
The 1,576-lb. Canycom from IHI Compact Excavator Sales is a rubber track concrete buggy featuring a 16-cu.-ft. capacity and a 90° dump angle.
Track system enables transport of materials through muddy ground conditions and over rough, uneven terrain or loose sand and gravel
Hydrostatic drive system
22-hp Robin gas engine with electric start
Travel speed up to 6 mph
Measures 35 in. wide and 95 in. long
IHI/Compact Excavator Sales
CB16P Buggy
The CB16P power buggy features the 16-cu.-ft.-capacity Cross Link Polymer Bucket, which is designed to minimize splash, plus offers a high UV protection rating.
13-hp Honda engine
Bucket hinge design provides greater reach and allows the bucket to sit lower in the frame for easier loading and a lower center of gravity
Extra-capacity 6-gal. fuel tank
Riding platform locks in upright position for walk-behind applications
6-in. minimum dump height
Crown Construction Equipment
CRT 48 Ride-on Trowel Series
The CRT 48 ride-on trowel series includes three 48-in. models with improved steering and additional engine options.
Torsion assist steering system provides easy steering and operation and reduced operator fatigue
Ergonomically designed twin lever control
Blade speeds ranging from 20 to 165 rpm
Center engine design for better visibility
Heavy-duty frame provides a more solid feel and allows easy access to slab edges
Wacker Neuson Corporation
Curb Cadet
This self-propelled, 2,650-lb. compact curb machine will slipform concrete curb, or extrude asphalt or concrete curb.
Can accommodate concrete mold configurations that will fit within a 12-in.-wide by 14-in.-high section
Molds quickly interchangeable
Curb can be poured on either side of the machine
Can place concrete over dowels or continuous reinforcing bar
Can pour a 2-ft. radius
13-cu.-ft. concrete hopper capacity
Gomaco Corporation
EDGE Concrete Placing Bucket
The EDGE Concrete Placing Bucket is designed to carry and place concrete with a skid steer in places concrete trucks cannot go.
Available in 1/2- and 3/4-cu.-yd. capacities
30-in. chute extension available
Features include squared off corners and a backed-on powder coat finish
Hydraulically controlled dispensing door closes with a tight seal for accurate, multiple placements from the same load
CEAttachments Inc.
Electric Flex Shaft Vibrators
These electric flex shaft vibrators feature an aluminum ribbed cast housing, heavy-duty vibration isolators and a double bar frame.
Protected air inlet prevents concrete clogging
7/8- or 1 3/16-in. diameters
2-, 5-, 7-, 10-, 14- or 21-ft. lengths
Interchangeable between Honda Back Pack and Electric Vibrator Head
Six sizes ranging from 3/4- to 2 3/8-in.
Minnich Mfg. Inc.
HHX Series Ride-on Power Trowel
The HHX Series ride-on power trowel features a patented swing-away upper frame design and helical gearboxes.
Continuously Variable Transmission allows for optimum performance
Twin Pitch Control provides fast, easy blade adjustment
Includes six 55-watt Hella halogen lights for nighttime applications
Multiquip Inc.
Lightening Strike Roller Screed
The Lightening Strike roller screed is available in screed tubing lengths from 2 to 20 ft., with more than 20 combinations to fit your pour.
Screed areas of 4 to 40 ft.
Electric or gas motor
Can be used on pervious and exposed aggregate mixes
Can screed driveways, approaches, basements, circular pours, crowned concrete, sloped concrete, semi approaches and more
Lura Enterprises, Inc.
MAX Dumper
The MAX Dumper is an 800-lb.-capacity, four-wheel-drive powered wheelbarrow driven by a Honda GXV 160cc commercial grade, four-stroke, 5.5-hp gas engine.
Suitable for concrete transport and can be equipped with accessories such as a flatbed, snow plow or power lift
Features include four 10-in. tires and disc brakes
Measures 36 in. high, 28 in. wide and 64 in. long
Niche Product Sales
SB2100 Mud Buggy
The 21-cu. ft. SB2100 mud buggy has the versatility of a walk-behind or ride-on machine to easily move concrete, mortar, gravel, dirt, debris and more.
Load capacity of 3,200 lbs.
13-hp Honda engine
One-piece, lift-away polyethylene engine cover
8-gal. fuel tank
Handlebar mounted levers control speed and direction
Stone Construction Equip. Inc.
ScreedSaver
The nearly 2,500-lb. ScreedSaver wireless remote-controlled, laser leveling, boom extension concrete screeding machine is heavy enough to handle a 4 slump concrete, yet light enough to be crane lifted to multi-story buildings and even operate on chaired rebar.
Screeds at rates of 3,000 sq. ft./hour with accuracy of F50 - 1/8 in. or better on flat, grade and dual slope jobs
Standard screed head measures 14 ft. wide, with optional heads available in 8- to 14-ft. widths
E-stop function causes machine to automatically sit down on the wheels and wait for further instructions
Ligchine International, LLC
SP 2800 Stationary Pump
The all-hydraulic SP 2800 stationary pump can be used to pump structural concrete on medium rise structures, mezzanines and other projects requiring volume over long distances.
Offers a 130 cu. yd. per hour output.
Tier III and COM III 197-hp Deutz diesel engine
Open-loop hydraulic system applies up to 1,465 psi on the concrete
Rock Valve enables pumping even the harshest mixes
Hand-held remote with 100 ft. of cable or optional wireless radio remote
Schwing America
Spin screed
The Spin Screed can be custom cut into lengths up to 22 ft., yet can be carried and loaded onto a truck by a single person.
Complete 22-ft. unit weighs less than 100 lbs.
Consists of an aluminum pipe powered by a heavy-duty right angle electric drill
Can be used on stiff, low-slump concrete of only 3 in. or on concrete with a higher slump
Leaves aggregate immediately below surface, producing a high-quality, durable finish
Spin Screed
Terramite Roller Screed
The Terramite Roller Screed can be used to finish road, sidewalk, runway and ramp projects.
Carrying cradle comes standard
Hydrostatic drive eliminates chains, belts, clutches, cables and keys
High-torque hydraulic motors
For paths from 6 to 32 ft.
Fast and easy cleanup
Terramite / TerraQuip Construction Products, Inc.
Titan TT208
The Titan TT208 ride-on trowel features patent-pending steering system incorporating a single steering stick and a force-assisted steering box.
Drivetrain includes a torque-sensitive, continuously variable primary belt drive, manually adjusted, variable-speed secondary belt drive and gearbox final drive
Power-assisted blade pitch controls
Spider plates allow overlapping or non-overlapping operation
Larger capacity fuel tank allows for a full shift of run time
Bartell Morrison Inc.
Companies in this article