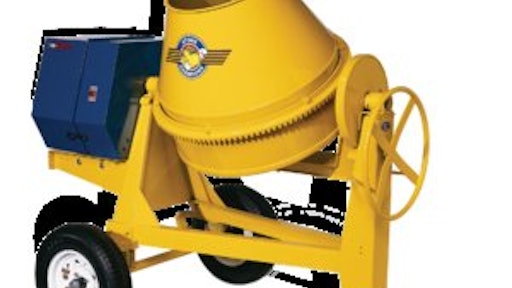 Champion Concrete Mixers
12 models in standard side and end-dump versions
Engine options include Briggs & Stratton, Honda, Robin, electric and diesel
Two models of heavy-duty mortar mixers powered by a 13-hp Honda engine or a 5-hp electric motor in 1- and 3-phase configurations
Concrete mixer capacities: 2, 4, 6, 7, 9, 10 and 12 cu.ft.
Silo mixer capacities: 12 and 20 cu. ft.
Stone Construction Equip. Inc.
Concrete mixer scale
Vulcan On-Board Scales Mixer Scale for new McNeilus and Oshkosh mixers is the latest addition to the companys family of dump truck and other on-board weighing systems for spring, air or mixed suspensions. Designed for easy operation, the system measures remaining load. It operates stand alone or interfaces with on-board GPS/computer systems. It can also be retrofitted on existing vehicles.
Vulcan On-Board Scales
EZR 21 S Dual-Paddle Mixer
CS Unitecs EZR 21 S dual-paddle mixer is designed for heavy materials such as fiber-filled cements, epoxies, mortar, flooring compounds, granulates, ceramics, pastes and putties. Each paddle has a 4 3/4-in. diameter with a 8 1/4-in. working width. The welded steel and galvanized blades rotate in opposite directions, mixing the material from the bottom up. The EZR 21 S can handle up to 5 bags or 25 gallons of material.
CS Unitec, Inc.
Gilson Portable Wheelbarrow Mixer
Mix 3.5 cu. ft. of cement, or two bags of pre-mix concrete
High torque, 115 volt, 1/2 hp single-phase motor
Clears 30-in. door opening
Weighs 125 lbs.
Polyurethane drums will not crack or rust
Ring gear enclosed for safety
Cleform Tool Corp / Gilson Mixers
Ingersoll Rand CM Series Concrete Mixers
Reinforced steel frames and abrasion-resistant drums
Powered by Honda engines that are solidly mounted to the frame
Three models ranging from .5- to 1.5-bag capacities
Welded drums manufactured from high abrasion-resistant steel
Dumping mechanism comes with a multi-position drum lock
Two sets of laser-cut steel blades
Doosan Infracore Portable Power
Mixer Attachment
The hydraulic spiral mixer from Blastcrete is designed for plaster, mortar, snhotcrete and aggregate concrete mixtures. The mixer offers high speed blending, side discharge and is universal with any skid steer with 12 gpm. Features include a universal mounting plate, 4-ft. chute and manual hydraulic controls.
Blastcrete Equipment
Mobile Concrete Mixers
These mobile concrete mixers provide the ability to control your concrete needs by producing your own concrete.
Eliminate waste by producing only the concrete required when its needed
Produce new concrete technologies including pervious concrete
Cemen Tech Inc
Mortar Mixers
Six models with capacities from 6 cu. ft. to 12 cu. ft.
Two hydraulic models
Main shaft is made of a single piece of 1.63-in. hex steel
Blade arms are held to the main shaft with conforming plates and hardware
Cast iron trunnion and pillow block house a triple-seal protection system utilizing both rigid steel washers and flexible synthetic grease seals
Engine shroud made of heavy gauge steel
MBW Inc.
SS-585 Skid Steer Mixer
The SS-585 skid-steer mixer features all-welded steel drum construction with internal paddles to provide uniform mixing and clean dumping.
Suitable for mixing cement, feed, fertilizer, incoulating seed, potting soil and more
5-cu.-ft. capacity
Features a hydraulic motor drive and flow control valve
Direct-mount, all-welded frame fits all skid steers with universal-style attachment systems
Worksaver Inc.
Stow Collomix
Line of 10 mixing systems for products ranging from grout, concrete and mortar to paint, epoxy dyes and more
Six single- or dual-speed handheld models in single- and dual-shaft configurations
Four hand-guided mixing stations with 2- to 3-cu.-ft. bucket capacities with a roller-mounted stand and a five-point base
Use forced-action mixing technology for effective mixing from bottom up, top down or parallel, depending on model
Multiquip Inc.
Companies in this article