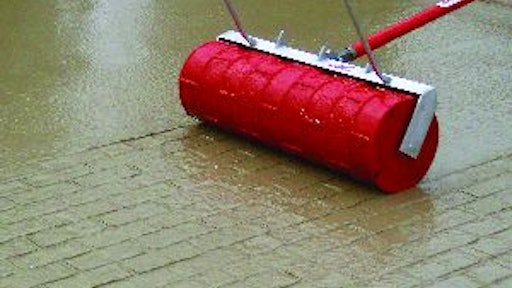 Torpedo Groover
56 in. long
Machine tooled, high grade aluminum
Cuts straight control joint 11/2 in. deep
Also available in 36 and 24 in. lengths
Slip Industries
Cleform Rock N Roller
Roller, weight and spray release system for stamped concrete
Seven patterns available
24-in., 36-in. and border rollers available
Lightweight
Up to five times faster than traditional methods
Cleform Tool Corp / Gilson Mixers
Thermomass Insulation System
Building insulation system for cast-in-place, tilt-up and precast walls
Insulation system uses Dow Styrofoam and Dow ISOCAST insulation
Fiber composite connectors are non-corrosive and possess verylow thermal conductivity
Use above or below grade
Use to gain LEED points
Composite Technologies Corp.
Exca-Beak
Grapple system for compact excavators and backhoe loaders
Allows the full operating range of your bucket
Available in all popular quick-tatch styles and can be supplied in pin-on configuration
Suitable for hardscaping, demolition, feeding chippers or tub grinders, concrete tear out, etc.
Daniel Mfg
950 RX Grinder
Radio remote controlled, four-head grinder
36.2-in.-wide grinding path
1,323 lbs. with 617 to 882 lbs. of down pressure
20-hp motor
450 to 1,400 rpm
2.5-gal. water tank
Optional Mist Cooler System attachment to grind hard concrete while avoiding diamond glazing
HTC Professional Floor Systems
PosiTector 200
Coating thickness gage that non-destructively measures the thickness of paint and coating on concrete
Can measure total thickness or up to three individual layer thicknesses in a multi-layer system
Features include extended range probes, faster measuring speed, large impact-resistant Lexan display, IP5X ingress protection and protective rubber holster
Conforms to ASTM D6132 and ISO 2808
DeFelsko Corporation
Form-A-Drain
Combination concrete footing form system, foundation drainage system and radon reduction system for residential basement applications
Vinyl lineal sections are used to form the footing, then remain permanently in place after the concrete is poured
Collects groundwater and transports it to a sump pit or a drainage pipe going to the outside; radon gas is also collected and safely evacuated through a separate vent pipe
Available in sizes 4, 6, 8 and 10 in.
Manufactured from 100% pre- and post-consumer PVC
Reduces jobsite waste by eliminating the need to install, remove and dispose of footing forms
CertainTeed
Stainless Steel Sprayer
Tank made of heavy gauge Stainless Steel 304
Brass cap handle
Steel pump rod
Brass pump tube
18-in. brass extension
4-in. professional grade hose
Heavy-duty brass valve
Comes with brass fan spray tip
Heavy-duty carrying strap included
B&G Equipment Company
Bob Harris Decorative Concrete Collection
Training materials for the decorative concrete industry from the president of the Decorative Concrete Institute
Book topics include stained concrete interior floors, stamped concrete, and concrete overlays and toppings
DVDs include a 200-minute guide to overlays and toppings and a 316-minute guide to stained concrete and more
Bob Harris Guides (Concrete Network)
Air Link
Air spring suspension for tandem front and rear axles
High roll stability (designed for high center of gravity loads)
Continually equalizes weight even in the event of a loss of air pressure
Polyurethane bushings mean less maintenance and no greasing
Suspension can operate with or without air
Exceptional ride quality
Raydan Manufacturing
Power Buggy
New 16.5-cu.-ft. power buggy can be used for concrete spreading, demolition debris removal, spot pouring and more
Available with either a steel or poly-type tank
6 in. of bucket clearance in fully dumped position
13-hp Honda engine
Electric or recoil start
Optional foam-filled tires to increase stability
Ingersoll Rand Company
Speed Screed Truss Screeds
Heavy-duty and lightweight vibratory strike-off machines available for all types of concrete paving and finishing applications
Reversible "double life" aluminum finishing tubes
Variable width
Self-contained power source
Positive crown control
Lift handles for easy transport
Forward travel by either hand winches or hydraulic winches
Metal Forms Corporation
AmDeck Floor & Roof System
Modular, lightweight, stay-in-place form for the construction of concrete floors and roofs
Use with ICF construction or other wall systems
Made of expanded polystyrene, reducing noise travel from one story to another and providing thermal insulation
Implements full 10-in.-deep lightweight steel joists to support construction loads
Can be placed up to 20 ft. on center
Amvic Building System
MC1050 Curb and Gutter Machine
Patented frame design allows the

conveyor to be placed on either side of the machine

Places curb up to 18 in. high and curb and gutter up to 30 in. wide
Places tack down curb over pins and places sidewalks up to 48 in. wide and 4 in. high
Maximum form width in offset position is 18 in.
Miller Spreader Company
Wacker Wet Screed
Powered by a Honda engine and offered in blade lengths from 4 to 16 ft.
Lengths available in 2-ft. intervals and also come in 4.8- or 6.5-in. widths
Adjustable eccentric weights
Fully enclosed exciter can be adjusted to seven different positions
Wacker Corporation
Diamond Reflection
Epoxy floor systems
Diamond-shaped particles are part of the floor
No grout joints
Can be installed with a smooth or a textured non-slip finish
Designed to withstand extended wear from pedestrian traffic
PolyMax
Air-Guard
Single-component, fluid-applied membrane that cures to a flexible, monolithic barrier
Provides protection against air and vapor infiltration
Reduces the possibility of mold growth within the cavity wall
Increases HVAC efficiency by improving air flow
GMX, Inc.
Max Climber 6000P
Passenger hoist system has a 6,000-lb. lifting capacity and can hold a maximum of 35 passengers
Cabin measures 156 in. long by 59 in. wide by 96 in. high
Single or dual cabin
Can travel up to 1,000 ft. high at a speed of up to 180 fpm
Beta Max Inc.
Micro-Finish Custom Flooring
Applied directly to any concrete surface
Easy to use
Wide array of finishes, colors and design capabilities
Commercial or residential use
Elite Crete Systems, Inc.
Bengal TG1000 Curb Machine
Forresidential or commercial curbing
Capable of extruding 24-in. walkways, landscape curbs with imbedded accent lighting, andmorethan30 different stamp patterns
Choose from 25 distinct molds and attachments
Curbs up to 16 ft. per minute
Tygar Manufacturing Inc.
Pro-Cretor
High-pressure concrete pump/mixer
Ideal for concrete, plaster, grout and refractory applications
Full-flow 3-in. S-tube, 10-cu.-ft. mixer and 46-hp diesel engine
Airplaco Inc.