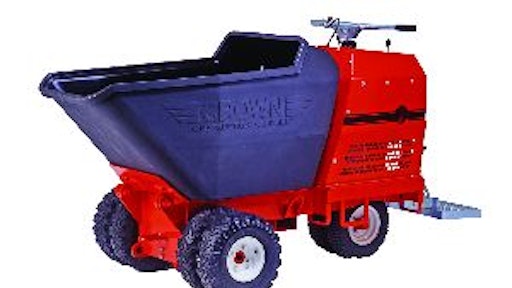 CB16P Power Buggy
13-hp Honda engine
16-cu.-ft. capacity
Cross-link polymer bucket
Riding platform locks in upright position for walk-behind applications
6-in. minimum dump height
Crown Construction Equipment
Lil' Bubba Curb Machine
Self-propelled concrete curb machine designed to easily create curb-style landscape borders in various commercial and residential applications
4-hp gasoline engine
Auger or plunger drive
All-steel construction
All-terrain tires
Concrete Edge
The Mudhopper
Attaches to a skid-steer loader for placement of concrete?where large trucks are unable to maneuver
Suitable for fence posts, sidewalks, patios, footings, floors and other locations where decorative gravel or rock need to be placed with precision
Transports up to 1 yd. of material
Hydraulic-controlled door provides greater operator control and allows multiple pours from one load
Vinyl Fencing Company
Concrete Dispensers
Volumetric concrete dispensers designed to handle various concrete mix designs, including pervious, SCC and rapid set
Truck- or trailer-mounted or stationary models
Material capacities from 2 to 10 cu. yds.
Production rates from 12 to 200 cu. yds. per hour
Can perform applications from precast, gunite/shotcrete, short loads and high-production batch plants
Cemen Tech Inc
Curbcat
Concrete slipform curb and gutter attachment
Automatic control of grade and steering using sensors and stringline
Hydraulic vibrators and cylinders powered by skid-steer hydraulic system
Quick, easy hookup and disconnect
Molds changeable in minutes
Easily transported via pickup or trailer
Creative Equipment Design
Concrete Bucket
High capacity Concrete Bucket features high-strength steel with alloy armor plate at all wear points
Patented load/haul/dump design carries all slurry materials
Optional concrete chutes allow concrete placement in hard to reach areas
Attachments International
Pro Curb CLS.3000
Self-propelled, commercial-grade extruder can fill a trench and form curb at the same time
Pours a 16-in. radius
25-hp engine
Hydraulic raise and lower system
Can extrude 65 yds. in an eight-hour day
Manually driven CLS.900 model also available
Curb Appeal International, Inc.
HoseHog
Removes the?need to drag concrete hose on elevated deck or slab on grade
13-hp engine moves 3-, 4- or 5-in. hose
Use multiple units on long hose lengths
Decreases line surge
Increase productivity by up to 30%
Somero Enterprises
MB16 Scoot-Crete Buggy
2-in.-thick solid plate steel frame
Dual front and rear tires
Hydraulic dump (power up and down) with console- and foot-operated control or optional handle-mounted control
Provides feathering capability while allowing operator to keep both hands on handle bar
Mechanical control provides infinitely variable dump and return rates
Dump cylinder pressure can be released so bucket can be dumped when engine isn't running
Miller Spreader Company
Mud Bucket
Quickly attaches to skid steer or track loader to transport any flowable

material around the jobsite

Holds up to a 1/2 yd. of concrete or other flowable material
18.5-in.-wide extension/reduction chute reduces to a 9-in.-wide opening for accurate material placement
Hydraulic gate unloads material with no additional labor
Suitable for use in tight areas
Easy to install and attaches to most skid-steer models
Loegering Mfg. Co.
Edgemaster Series 800
Creates a?variety of profiles and patterns
Lightweight design
Gas or electric
Slip-steering for tight turn radius
Few moving parts to reduce maintenance and wear
Powder coat paint finish
Kwik Kerb