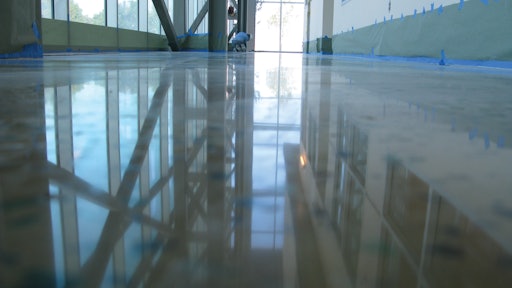 Robotics Technology Park in Alabama wanted to create a visually appealing entryway that would also project a sophisticated image. Robotics wanted its 4,000-square-foot lobby floor to be polished concrete. But overpoured concrete created a challenge to the original plan. Concrete Flooring Solutions in Alabaster, Ala., took on the job and its challenges.
The Challenges
"One of our critical challenges on this project was getting the 4,000-square-foot lobby floor to the specified 5/8-inch recessed depth," said Concrete Flooring Solutions' owner Darryl White. "Unfortunately, the floor was overpoured by almost 1/2 inch, which impacted the use of the state-of-the-art electric door."
The crews had to bushammer out the 5/8-inch overage with a jackhammer after the main construction of the building, including a glass curtain wall, was complete. This required close coordination to ensure no further damage to the structure and a new plan to achieve the desired look for the floor.
The original specification for the floor called for polished concrete with a 5/8-inch terrazzo, 5/8-inch topping and broadcast glass. White began looking for an overlay that could be polished, receive dye and glass aggregate with minimal popout, and polish in less than 24 hours. He chose CTS Cement Manufacturing Corporation's Rapid Set TRU Self-Leveling product for the job. Rapid Set TRU Self-Leveling is a hydraulic-cement-based, self-leveling topping, resurfacer and underlayment that can be used both indoors and out. The maker says the one-component system is crack resistant, durable and won't deteriorate in damp conditions.
Ideal for high performance floor topping, underlayment and resurfacing projects, TRU Self-Leveling works well for projects that need long flow life and working time while achieving high early strength. TRU rapidly levels, maintains workability for 30 minutes and produces a smooth, strong surface with high bond strength. TRU is ready for foot traffic in two to three hours and ready for coatings in about 12 hours.
A double pour was completed in the lobby area – the first was to bring the floor back to the required 5/8-inch recessed depth. The application of 500 bags of Rapid Set TRU was done simultaneously with Concrete Flooring Solutions' crews broadcasting 3,500 pounds of glass into a 34,000-square-foot area. The floor was dried in less than 24 hours, which enabled other contractors, such as painters and mechanical, to get the project back on track.
After laying the Rapid Set TRU Self-Leveling and broadcast glass, White used HTC diamonds and grinders for the polish. "We had one shot at correcting this problem," said White. "We would have never achieved the desired result without the Rapid Set TRU Self-Leveling. This product is a wonderful substitute for concrete because it is similar to polishing regular concrete. It colors and saw cuts very well."
Companies in this article