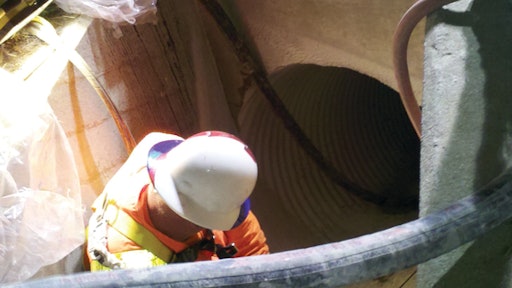 The Challenge:
Repair a concrete culvert at night and on high terrain, requiring longer placement time because concrete would have to flow through 250 feet of hose down a mountain.
The Players:
Superior Gunite
Caltrans
CTS Cement
The Process:
During repairs on the highway and culverts leading to and from Big Bear Valley in Southern California, a problem culvert on Highway 330 heading toward Big Bear Mountain needed an emergency repair. The repair had to be worked on at night and completed in time to open the Highway to Memorial Day traffic on May 26.
Working at night, the average temperature would be between 45ºF to 50ºF. Superior Gunite, the contractor, also had to work with the high terrain. The mix had to flow through 250 feet of hose down a mountain, taking several minutes before it would be at its final destination. Flowing mix at that distance risks the material setting in the hoses with any work stoppage. Balancing the fluidity and adhesion of the mix and the back pressure (870 psi) from 250 feet of hose were challenging. The contractor needed a system that would allow a short mixing time yet would allow for set time that could accommodate the longer placement times.
Superior Gunite decided to use Rapid Set PipeLiner, a new system and material from CTS Cement, with a new spin-cast system, Spincrete. The PipeLiner material is applied using a spin-cast shotcrete machine. The process includes mixing the material, pumping it through a hose and then shooting it out of the spin-cast rotating nozzle located at the end of the hose.
The procedure involves sending the apparatus down the pipe on a sled to the exit of the pipe. From there, material is sent through the hose and is shot out at 360 degrees, to cover the entire pipe. While the material is being shot onto the pipe wall, the sled is slowly drawn to the entrance of the pipe using a winch mechanism. The result is a centrifugally cast fully structural cement-pipe within the old pipe and at a precise consistent thickness throughout the entire pipe length.
The thickness of the spray is determined by the pulling speed of the sled. For the Big Bear Mountain culvert, the spray thickness was the diameter of a penny, ¾ inch.
"Using the Spincrete process and the advanced cementitious material from Rapid Set, we were able to complete the necessary pipe repair within 24 hours and gave our client Caltrans a new pipe all without excavation and disruption that is expected to last for at least another 50 years," said Kevan Taylor, vice president, Superior Gunite.
Work on the Big Bear Mountain culvert was completed without complications on May 24, two days before the Memorial Day deadline.
Companies in this article