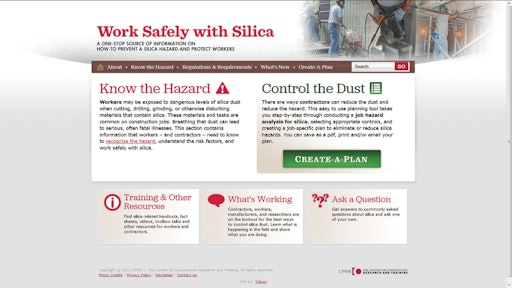 The health risks associated with inhaling construction dust containing silica particles are well established. Exposure to silica dust can result in serious, sometimes fatal, illnesses, including silicosis, lung cancer and other respiratory diseases. With the Occupational Safety and Health Administration's recent announcement of a proposed standard to better protect construction workers and others from silica dust, contractors are increasingly asking questions about the hazard, the materials and tasks that pose a danger, and the availability of controls to protect workers from exposure.
CPWR – The Center for Research and Training, a nonprofit construction safety and health research institute supported by NIOSH, has developed a one-stop online resource to help contractors work through these issues: Work Safely with Silica (www.silica-safe.org). On the site, you can find the latest on regulatory efforts, news articles, examples of what other contractors are doing and related scientific research, including the results of almost two decades of CPWR research on the silica hazard and controls.
In addition, the site includes a unique online planning tool, Create-a-Plan, that will help you assess the hazard on your job, find tools and equipment to control the hazard and generate a site-specific silica control plan containing all this information. The tool includes the following steps:
Step 1: Will you generate dust containing silica on the job? This step offers lists of building materials that contain silica and construction tasks that generate dust. Users can mark as many combinations of tasks and materials as are anticipated for a job.
Step 2: How do you plan to control the dust? Based on the material and task combinations selected in Step 1, users are offered a list of equipment and control options. Want to learn more about a particular option? Click on the prompt "Click here for examples of commercially available equipment and controls." The examples include manufacturer information, including (if available) videos and impartial third-party information on the different types of equipment and controls.
Step 3: This area provides space to document other elements of a comprehensive silica control plan, including company name, jobsite, work description, training, housekeeping and other details.
When finished, just click Continue to generate the plan, which can be printed, emailed or saved as a PDF. Users also have the option of setting up a password-protected account where they can save their plans to retrieve and edit for use on future jobs.
Do you know about tools and equipment for controlling silica that we haven't included? Let us know! Work Safely with Silica is continuously updated with new information, controls and research findings. Please send questions, possible content and suggestions to silica@cpwr.com.
Eileen Betit is Director of Special Projects for CPWR – The Center for Construction Research and Training. As part of CPWR's research to practice (r2p) program, she works with industry partnerships to increase contractors' and workers' use of research-based solutions for hazards on construction sites. She can be reached at silica@cpwr.com
Research and information for this article was prepared by CPWR – The Center for Construction Research and Training. This research was made possible by a cooperative agreement with the National Institute for Occupational Safety and Health, NIOSH (OH009762). The contents are solely the responsibility of the authors and do not necessarily represent the official views of NIOSH.