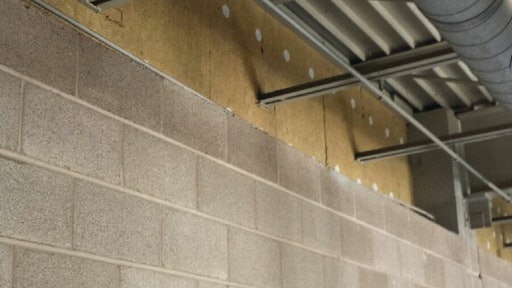 It happens all the time; some jobs naturally turn out to be tougher and more time consuming than they figured to be. For one reason or another — weather delays, not enough materials, unexpected circumstances or something else — things happen where a deadline is not met or the profit margin takes a hit. Afterwards, it's only normal if you question why you took on the project in the first place.
You couldn't blame Nirav Sapra if he had those thoughts running through his head last April when he began work on an important job in western Illinois. The project manager for Lakemoor, Ill.-based Master Design Build had won a $1.5 million project at the Rock Island Arsenal (RIA), a military facility on the Mississippi River in the Quad Cities area. It figured to be a challenging task until he discovered a new product that turned the tide.
By using the T3 Insulfast Insulation Fastening System from ITW Ramset, Sapra and his crew completed the assignment to fasten 2-inch insulation to military grade reinforced concrete 70 percent faster than he originally anticipated.
"Using Insulfast was a life saver," he says. "I originally calculated it would take two of my guys six weeks to complete the work, given the complexity of what was involved. As it turned out, one guy did everything in just two weeks. It was absolutely crazy."
It's not Alcatraz but RIA is the Midwestern "rock". The largest government-owned weapons manufacturing arsenal in the western world, it provides manufacturing, logistics, and base support services for the Armed Forces. An active U.S. Army factory which manufactures ordnance and equipment for the Armed Forces, RIA sits on 946 acres in the middle of the river between the cities of Rock Island, Ill. and Davenport, Iowa.
A major bridge carrying four lanes of traffic on Interstate 74 is positioned off the eastern edge of the property, which was originally established as a government site nearly 200 years ago with the building of Fort Armstrong in 1816. During the Civil War, Arsenal Island was home to a large Union army prison camp for captured Confederate soldiers, but that's where any comparisons to Alcatraz end.
About 250 military and 6,000 civilians work at the RIA, which contains modern stone buildings to withstand the gritty conditions and wild temperature fluctuations the region experiences annually. Sapra was contracted to upgrade the Vehicle Maintenance facility, a nuts-and-bolts operation that does work on Marine Corp. vehicles. The 3,000 square-foot building was without fire alarm systems when originally constructed, says Sapra, so there was a huge concentration now on installing fire insulation. But there was a catch.
"The insulation had to be installed in places 45 feet above ground level, and we could not use a scissors lift because of where the existing equipment was positioned. This meant that my guy had to use a ladder each time. If he had to screw in the insulation at that height, it would have taken us much longer to complete."
That's where Ramset's T3 Insulfast saved the project. Four times faster than traditional stick pin installation methods, it allows the installer to attach insulation in one simple step without using adhesives or cutting spindle insulation anchors. T3 fastens the insulation directly to solid masonry, hollow concrete block, and even steel studs, so the days of gluing and stick pinning insulation anchors are over. It also addresses thermal bridging by creating a significant lateral cold or heat flow along the surface of a wall before penetrating through the wall via steel in the pins.
Proprietary fasteners come with the Ramset T3 Insulfast system and provide 211 lbs. of ultimate tension capacity to attach insulation like Rockwool, Expanded Polystyrene, and Extruded Polystyrene. The T3 tool that typically shoots more than 1,000 shots before needing to be replaced makes it possible to fasten insulation in all the tight places through pipes and sprinkler systems.As Sapra learned, there are exceptions.
"The Vehicle Maintenance facility was built to military grade specs and the concrete was much harder than usual. It was so hard that we did experience some failures; when we shot the fastener through the concrete, some of the nails would bend on the other end. I didn't have a problem with the product, which I found extremely efficient. We would have saved even more time if all of the work was done at ground level."
Further complicating the project was the type of insulation used. Sapra remarked that ROXUL FabRock is a new kind of insulation that is very dense and made of stone wool, combining pulverized volcanic Basalt rock found in lava fields with recycled slag, a byproduct of the steel and copper industry. The minerals are melted and spun into fibers to form insulation boards. A multi-purpose board that repels water and moisture, FabRock is fire resistant and rated to 2,150-degrees Fahrenheit.
"The stone wool absorbs sounds very well and is a fire retardant. That's why the military has used it in some laboratories and nuclear facilities," informed Sapra. "It was selected for RIA because of the welding work that is performed in the vehicle shop. It was the first time I worked with ROXUL and it is heavier than standard regulation board. This stuff weighs 10-12 pounds and makes it harder for a person to carry a sheet of it up a 45 foot ladder. Overall, it was a very interesting project and T3 Insulfast saved us a significant amount of labor time. It really lives up to its name."