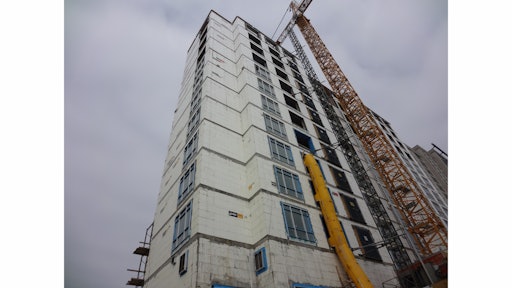 The insulated concrete form (ICF) industry has undergone a series of change over the last 20 years. Driven by the entrepreneurial spirit, a robust housing market and good economic times, ICF products became a part of the conversation as it relates to building construction. From 1992-2008, the ICF market experienced a period of rapid growth as greater acceptance in the market grew. Then something much more powerful occurred.

The housing crisis struck in 2008, plummeting housing starts and causing a retraction of demand for ICF's (and other construction materials.) Those manufacturers owned by an expanded polystyrene (EPS) plant survived. The vertically integrated companies supported by a brick and mortar factory typically had the staying power. Those that didn't are a distant memory. Today, what remains are a smaller number of ICF brands, fully integrated and most backed by a manufacturing company.

Now that the dust has settled, and economic recovery is slowly occurring, manufacturers of ICF products are experiencing real pockets of success.

"I see a battle ground over midrise construction for which concrete contractors can benefit," says Andy Lennox, Vice President of Marketing at Logix ICF and current Chair of the Council of ICF Industries. "For instance, in the city of Waterloo, Ontario (Canada), 100 ICF built mid-rise multi-family buildings have been built, half of which are located within one square mile of each other. That happened for a real reason. If the financial numbers weren't good and contractors and building owners weren't making money, they would have stopped building."

In the case of Waterloo, Ontario, the construction started out as student residences for students of the University of Waterloo and eventually branched out to condominium and other rental projects in the area.

Lennox says in addition to a sound and profitable opportunity, contractors and building owners discovered the cost to build with ICF's was equal to or less than, when compared to other methods of building — at approximately $100 per square foot.

"Contractors could build during the winter months and all year round. The forms are insulated and relatively unimpeded by winter. The typical costs associated with heating and hoarding concrete during a winter project all but disappeared," he explains. "And once the building was built the utility costs to the building owner decreased because it's an airtight building. In turn, the building owners could pocket the savings in utility bills."

Build an entire building from ground to roof
Contractors who utilize ICF products have an opportunity to earn increased profitability on a given project. And Lennox says it's not uncommon to see a crew of eight to 10 people using ICF's and constructing the entire superstructure. Take for example, that same crew (of eight to 10) who are responsible for setting the ICF blocks, pouring the concrete and setting rebar are also installing the pre-cast floor system, constructing the demising walls, and even installing the windows. "The same relatively small crew is building the entire infrastructure of a 20 story building, think about that."

Because the pre-cast floors require less shoring, the fit and finish crews can start working on finishing the inside of the building while the upper floors are still being built. These subtle advantages are key points for a concrete contractor to experience success when building with ICF's.

School construction
ICF's aren't just for single or multi-family dwellings. "The most energy efficient schools in the U.S. are being built with ICF," Lennox says. "Those schools are net zero ready and coming in at the expected cost. They are highly energy efficient and they are Green."

There is also an inherent education and awareness factor which comes into play. He says students at schools built using ICF's are becoming more involved in giving tours to visitors and it's helping to develop sensitivity in young people to the Green construction movement.

How do ICF's fit into Green?
If your project is calling for the use of environmentally friendly, Green products, ICF could be the answer. "The 50 percent energy savings generally associated with ICF buildings for the service life of over 100 years speaks volumes for the Green construction movement," he says.

Lennox cites additional contributions with half of the product in ICF's by weight are typically comprised of recycled product. When looking at an ICF block, the two foam panels are held together by "plastic webs" which are typically made from recycled polypropylene. The foam from the EPS plant is also manufactured with up to 10 percent recycled foam material. Any waste generated during construction can also be recycled locally. "ICF's are made with recycled materials and they are also recyclable. That's a win."

Finally, because concrete has a limited shelf life — from concrete plant to construction site, generally speaking, concrete is sourced locally near the site. "Concrete contractors will discover that often with these Green LEED projects, there are points for not having excessive travel distances."

Looking to the future
The last 20 years has been a wild ride for ICF manufacturers. But in the next five to ten years, Lennox hopes to see ICF's gain further recognition.
"I see the future reflecting tremendous growth areas in the commercial arena, particularly in tall wall applications and schools," Lennox predicts. "The cost of building with ICF's is the same or less as other forming technologies and the building is better. Your final product is a better building for the dollar."

On the residential front, Lennox foresees, "ICF basements in five years as being more of a standard offering than it is now. As we become more sensitive to resilient construction and the importance of it, I think there is room for ICF in those regions which experience high winds, tornadoes and hurricanes."

The benefits for using ICF in northern climates are the savings on heating and hoarding costs. In southern markets where humidity control and comfort are issues, ICF's can deter and deflect issues related to moisture. For areas where termites are a problem, termite resistant blocks are treated with a compound to provide a line of defense.
"ICF's are going to have their place in the industry and they do so right now," Lennox concludes.