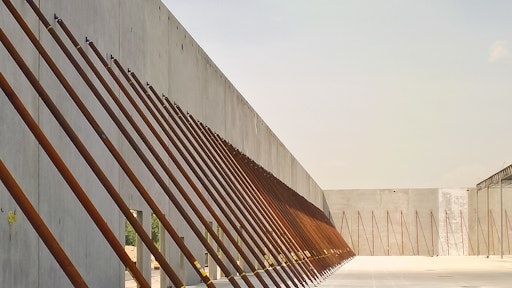 Over the past 10-plus years, much has been published regarding the capacity of tilt-up to deliver multistory, irregularly shaped, complex projects. The Tilt-Up Concrete Association's Annual Tilt-Up Achievement Awards Program has evidenced the ever increasing variety of project types, forms and sizes that have since become commonplace. The reputation of tilt-up as solely a way to construct plain big boxes has begun to fade and tilt-up is now regularly considered for almost every project type, depending on the region. "From warehouses and functional origins, tilt wall has begun to transverse building types at an amazing rate," writes Jeffrey Brown of Powers Brown Architecture. "While there is still much work to do regarding the seriousness with which architects and academia take the method as an innovative way of form making, tilt-up has come a long way."
Still, among all of these efforts and the success tilt-up has had expanding into new markets, it is important to acknowledge and discuss the relevance and dominance tilt-up enjoys when it comes to the construction of the building type known within the industry as the rigid wall, flexible diaphragm, large box structure. "There is simply no way to beat tilt-up when constructing a building of this nature," says Mike Wolstenholme, National Tilt-Up Sales Manager for Meadow Burke. "It remains the most cost-effective, time-sensitive and efficient way to construct a warehouse box and, therefore, it remains the bread and butter of our industry."  Although "simple" is often used to describe these structures, many times the projects are far from simple either in structure, configuration or site adaptation.  The moniker "simple", however, is used to refer to the relationship of the perimeter wall envelope supporting an expansive roof with few juxtapositions or features that present challenges to engineering.
Perfecting the box
"Are we getting better at the simple buildings? Yes," says Laurence Smith, P.Eng., Vice President of Engineering with Lindsay Construction in Dartmouth, Nova Scotia, Canada, "and the improvements exist across the entire process. From the time before the building is designed to the setting of the last panel, the process continues to get better."
One factor contributing to increased efficiencies in some markets, according to Smith, is their maturation. Eight to ten years ago, Smith had to sell the concept of tilt-up to clients. Now they come wanting it from the beginning. Even so, as early as five years ago Smith says clients would come with a building designed in another system that required conversion to tilt-up in order to deliver the advantages they desired. "The process of converting these projects, while worth it, took so much energy and time," said Smith. "In mature markets, much of this is gone."
Smith explained that new markets can present challenges in the field as well. "With the oil industry boom in Canada, companies were bringing in these large cranes to regions that before had no access to the machinery needed to lift large panels efficiently," says Smith. Because of this, Lindsay Construction was able to expand and bring tilt-up to markets unfamiliar with the building system. Smith explained that at home there were one or two cranes and one or two crane operators and for them lifting panels was second nature. As Smith visited jobsites in this new region and asked those who had never seen anything like this to raise their hand, he was only slightly surprised to find that he was one of the only ones with his hand down. "It's exciting and extremely gratifying to introduce something completely new," said Smith, "but it obviously comes with some complexity. I tell them, take the first one slow. They listen. Then I say, let's do another."
This penetration of tilt-up into new markets continues to improve efficiencies as more clients and contractors become familiar with the method. Contractors in Florida, Texas, and California haven't encountered these issues for years. However, in these markets, advancements in lifting and bracing technology have fueled greater efficiency where according to Wolstenholme, "large, simple boxes are coming back in a huge way."
"Although we've done a large number of Class-A office buildings in tilt-up with fantastic results, the economy and speed that tilt-up brings to warehouse type construction is unmatched," says Chip Dehart, an Estimator for Suntec Concrete, Inc., one of the largest commercial concrete construction companies in the Southwest. "We can put up a 400,000 square-foot warehouse (footings, slabs, and panels erected) in six weeks or less."
Dan Dancer, Product Line Manager for Dayton Superior, an industry leader in the design, manufacturing and distribution of specialized concrete construction products, says, "By in large, the majority of our work for the tilt-up industry comes from single-story tilt-up projects." For that reason, they and other industry manufactures continue to develop simpler, faster and therefore more economical ways of forming, lifting and bracing tilt-up panels.
"Meadow Burke has an extremely fast, safe and strong lift system called Super Lift III," says Wolstenholme. "It allows for panels to be erected at a fast rate, especially in the repetitive process." Wolstenholme explained that engineers work to keep rigging changes to a minimum during lifting and bracing engineering, which facilitates faster erection times.
Methods of securing the braces to the slab also continue to improve. "We have developed strong, safe and fast brace-anchoring systems such as the Slam Anchor and the MB Brace Bolt," says Wolstenholme. "The system allows for quick attachment of the braces to the floor while meeting the strict brace loads required." Even the average height of the panels has changed in the simple big box as developers have required greater interior clear heights for their tenants.  The taller the panel, the greater the force on the floor slab during the bracing period, and this can be a real challenge.
Additionally, bracing to the outside of the building is becoming a more and more common practice. Initially developed primarily for multistory projects and/or projects with a relatively small footprint, these larger "simple" projects can have issues related to the preservation of the slab (no holes) and the facilitation of quicker, more efficient steel erection.  The experience in bracing to the outside from the newer markets has made this strategy a good option. Manufacturers continue to refine lifting and bracing systems, making them more efficient and versatile. Today, helical ground anchoring systems have become the primary method used to brace panels to the outside, significantly speeding up the process and applying greater safety around the perimeter where large blocks of concrete, called "deadmen", used to be found.
Keeping it simple and turning a profit
In addition to being the building type that brings out the very best of tilt-up's efficiencies, many contractors would agree that these projects are also the most profitable. Clay Fischer, CEO at Woodland Construction Company, Inc. once proclaimed, "If we won an award for the project, we probably didn't make much money on it." Many have shared this opinion as they jokingly describe the complexity and unforeseen challenges many times found in projects that the judges often react to most favorably.  It also implicates that projects many consider mundane are the ones where contractors can produce the best results for their profitability.
According to Smith, "It's not the size of the project that is necessarily the determining factor for efficiency or profitability.  I can look at a basic project (without high-end finishes) under construction, and based on the simplicity of the bracing scheme, give you a ball-park square foot cost," Smith explains. "The two are directly related in my experience."  No matter the size of the box, what Smith refers to is the relative simplicity to which the big box building type is known.  Panels are routine or repetitive in their size, bracing schemes and lifting layouts are not altered significantly, and openings are repetitive.  They account for as basic an approach to both cost estimating and construction as possible in any industry, but especially so for tilt-up.
When asked about the best size for tilt-up projects with this idea in mind, Smith, a past president of the Tilt-Up Concrete Association, explained that everything goes full circle. "With regards to the feasibility of a tilt-up project and its economies related to size, a 20,000 square-foot project was once considered the minimum," says Smith. "Then it went down to 15,000 square feet, then 10,000 square feet. We have done 5,000 square-foot projects very economically and the clients are happy." For Smith, it is all about the simplicity and efficiency of the design.
Projecting the future

While there is no science behind the prediction of what the future holds for the industry, one thing is clear: the economy has rolled around to the return of this big box.  Companies like Amazon, Wal-Mart and many more are once again committing to massive projects with a basic perimeter envelope and acres of roof area.  This has the tilt-up construction industry poised to display the effectiveness and the efficiency that became the calling card for many contractors during the 90's and early part of this millennium.
The past is still not the future, however, and today's new big box projects have implemented many design changes that are introducing new challenges to construction professionals.  New requirements for energy performance and air barrier construction are ushering in a new era of insulated wall technology to a building category that had been largely exempt from the control of energy consumption.
"While we are always evolving," says Smith. "That one market will never go away. When that building comes along, and tilt-up is an option, it will always be the best solution." Tilt-up's position among other methods of constructing relatively large low-rise hard-walled structures is rarely challenged. While tilt-up is being employed as a project solution for an ever-increasing variety of building types, these projects continue to exploit some of the most valuable of the building system's advantages, and they are only getting better.
Companies in this article