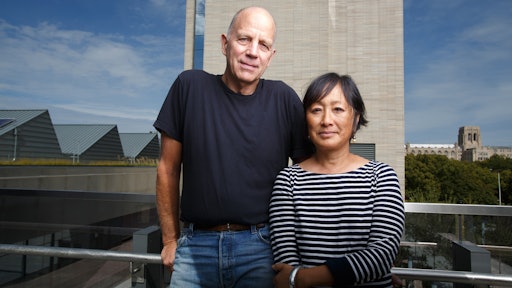 Tod Williams and Billie Tsien, founding partners at Tod Williams Billie Tsien Architects | Partners (TWBTA), will present "Concrete and Abstract" at the Tilt-Up Concrete Association (TCA) International Convention in New Brunswick, N.J. on Oct. 1, 2015. The talk will precede a dedication and tour of their newly designed Hurricane Sandy Memorial Pavilion. The talk will feature the firm's use of concrete and their thoughts on the architectural potential of tilt-up concrete construction.
"In our work we have always used concrete as a primary material because it is long lasting and because it can be transformed in so many ways - from the smoothness of terrazzo grinding to the revealing of aggregate that occurs with heavy sandblasting," says Tsien.
In March 2015, TWBTA began working with a team of experts in tilt-up design and construction to explore the method's architectural potential and application for the memorial. "While our primary experience has been with cast-in-place concrete and precast panels, through the design and construction of the Hurricane Sandy Memorial Pavilion, we have begun to explore the tilt-up process," says Williams. "In the past few months we have learned that tilt-up offers efficiency and speed, as well as quality and control of construction."
During this talk they will elaborate on this experience and their understating of a variety of approaches to working with concrete.
Complimentary registration and lunch for design professionals and students is sponsored by LJB Inc. Space is limited and attendees must RSVP to lbloomquist@tilt-up.org or by calling (319) 895-6911 by Sept. 25, 2015.
Attendees will receive a free copy of "Tiltwallism: A Treatise on the Architectural Potential of Tilt Wall Construction" by architect Jeffrey Brown, courtesy of Arch-Con Corporation.
"Tiltwallism" Gives Insights into 'Everyday' Architecture

"Tiltwallism" encourages architects to re-engage everyday architecture neglected by many professionals and stimulate an interest in tilt-up for designers. In addition to serving as an introductory resource to architects and an inspiration to contractors, developers and structural consultants familiar with the building system, the book presents a serious investigation into the absence of tilt-up in architectural theory and critical practice. A copy of the TCA's "The Architecture of Tilt-Up" will also be distributed to attendees courtesy of T&T Construction. Attendees will also receive a free t-shirt designed by TWBTA featuring the Hurricane Sandy Memorial Pavilion. (All gifts, while supplies last)
Additional information can be found at www.tilt-up.org/convention.
Companies in this article