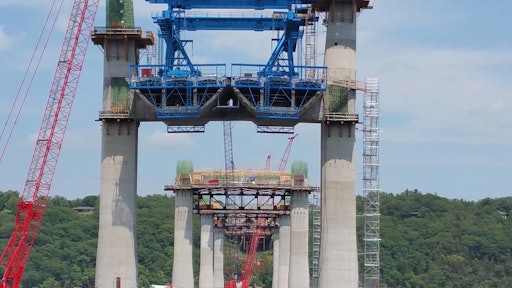 The St. Croix River marks the boundary between Minnesota and Wisconsin. It's also designated as a National Scenic Riverway by the federal government and is managed by the National Park service. As such, the federal government manages the character of the river, including the bridges crossing over it. The existing steel lift-bridge was built in 1934, crossing the river at Stillwater, Minn. and is only a few feet above water. 
Click here to read the story behind this complex and interesting project.
Forty or so stakeholders (cities along the river, Dept. of Natural Resources, National Park Service, and others) had to agree on a structure that wasn't too imposing, would have low impact on the landscape, and design appeal. They settled on an extra-dosed, precast segmental bridge. The extra-dosed part of the design refers to the inclusion of towers about one-quarter the height (approximately 67 feet), of those for a cable-stay bridge. The low-angle support cables together with the post-tension (PT) cables in the precast segments provide the support for the bridge. The new bridge will be an architecturally graceful structure approximately 150 feet above the water on the Wisconsin side and 110 feet on the Minnesota side.