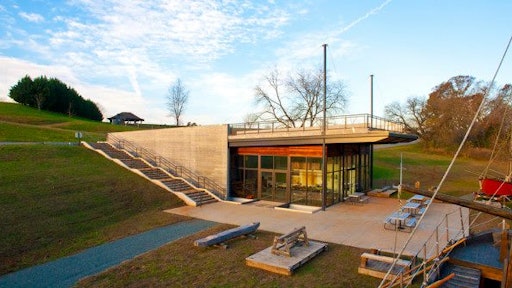 For 27 years, Advanced Concrete Foundations Inc., (Louisa, Virginia), has made a name for themselves as a contractor who offers quality work at a competitive price. While the contractor started out in the concrete business as a foundations, footings and wall contractor, the Great Recession of 2008-2013 forced the contractor to look at other ways to diversify their business while also trying to weather the economic storm. This is their story.
As a former builder, Tom Lanahan was fascinated with aluminum forms and as a builder he knows the concrete foundation is the starting platform for any residence being constructed. The year was 1989, when Tom was approached by a friend who asked him to take a look at his concrete business. At that time, there were no poured concrete foundations in the central Virginia area. Foundations were constructed using concrete blocks. After examining the business, which also happened to be for sale, Tom realized that as a foundation system, it was the weakest part of the contractors work and he knew he could do better. As such, Tom left his successful career as a builder to become the first poured foundation concrete contractor in central Virginia.
Tom began to learn more about the aluminum forming systems; he thought he could use his years of experience and professional connections to make aluminum forming systems accepted in the area. Tom had a vision.
According to Tom's wife, Kay, "Once the builders saw the concrete foundations, they realized it was a superior product compared to a block foundation. Tom was able to convince the builders in our area and he set the stage beautifully for our future."
It was business as usual for Tom. Over the years, he set out to build a concrete foundation business based on high-quality work at competitive prices. As the business grew so did the need to hire key employees to complete the work. By 1999, Kay joined the business to manage the paperwork – invoicing, accounts payable, payroll, etc.
Keeping the business as a family affair, the Lanahan's son, Josh officially joined the ranks too. He spent nearly two years at his father's side, learning how to estimate and bill jobs. He worked in the field alongside seasoned laborers. As the company grew, so did Josh's position. He moved into a sales role and assisted in running the operations. By 2003, illness forced Tom into retirement. Meanwhile, Kay and Josh stepped forward to continue the vision established by Tom.
Business continued to grow until 2008 when in Kay's words, "the world collapsed." At that time, Advanced Concrete Foundations Inc. had 130 field employees and were billing approximately $8 million in sales volume.
"After the housing collapse, Josh and I really said, 'We can no longer say we don't do anything.' We changed how we run the business," Kay explains. "Our answer had to be, 'Yes, we will do anything in the concrete world.' We also began to say more and more, if you want it in concrete, we can do it."
Making a Transition
According to Josh, like all concrete businesses, it was a struggle at times. The contractor was bidding a large volume of commercial jobs and the pricing of the jobs was askew. At that point too, the contractor transitioned into flatwork.
"We were losing a lot of contracts because we were not a complete contractor," Josh says. "We only did footings and walls."
The transition wasn't easy, but Josh says he tried to find the training opportunities to be successful. Learning about using the right mix design for atmospheric and jobsite conditions, slab design, reinforcing, control joints and vapor barriers all became new territory for Josh.
"I underestimated the amount of knowledge that I needed for high-end industrial work and high-end residential slabs," he says.
Kay says one of the first areas of change was how the contractor priced out jobs. For years, the company operated on a unit pricing model but transitioned into a total time and materials pricing model. Visitors to the contractor's website will find the unit pricing there in order to give prospective customers a sense of what a job may cost. The transition from unit pricing to time and material pricing has had its positive impacts too.
The Lanahan's started to see more projects being awarded to them. Projects such as the Lewis and Clark Museum which featured board forming as the customer wanted the museum exterior to look like a boat, barrel rooms for local winery's or a custom sewage tank project for a rock concert venue.
"It's that kind of thing, when a customer tells us what they want, we say, alright, we'll do that," says Kay. "These are opportunities for us to do something different. We'll learn to do it and that's the kind of attitude we have with our guys."
Changing the way they bid projects has been a welcome and profitable change. "What we found was that for small jobs, we couldn't charge enough to cover the cost of the job. For large jobs, it became too much—it was cost prohibitive. When the recession hit, we did a number of small jobs but continued to lose money. We have to make money on every step that goes out the door. Changing to time and materials pricing helped turn that around."
As with most concrete contractors at the time, the recession was not kind. The contractor was faced with reducing labor to 27 employees which allowed the Lanahan's to keep their foreman employed.
"What we were able to do was keep our talent," Kay says. "What we found is if you have talented people, we were able to perform the work in a much better fashion. The mistakes on the jobsite went away. These guys have learned, and because we kept the talented people and stressed to be the very best in what we do and our crews take pride in what they do."
While keeping the company's talent in place has been key to the contractor's success. Josh says his biggest challenge is making a promising future for somebody on the crew. Presently, Josh is developing a training manual for the business.
"We'll still deliver the same product but we'll do it in five placements instead of one," he explains. "We'll teach our crews how to set up the jobsite including where the concrete truck should be located on site, where tools should be cleaned and other aspects that go into performing flatwork. We're still in the fledgling stages of this program, but as a business, I need to take the time to train the crew and give them the tools they need to be successful."
Investing in Technology
The recovery from the Great Recession has also been helped by the equipment and technology available to contractors today. The contractor currently owns and operates two Trimble Total Station units. The units have proven to be an invaluable piece of equipment that has made a difference in the work Advanced Concrete Foundations Inc. performs. With three roving foreman on staff, two of them work exclusively with the total station units.
"These foreman meet with the builders and use the units to do all the layout for the builders and they love it," exclaims Kay. "What my husband taught me was that if you don't have the very best equipment you're shooting yourself in the foot and its true. Those pieces of equipment have been amazing for us and our builders depend on it."
In the front office, the Lanahan's use Sage contractors software to manage job costing and invoicing. One piece of advice Kay offers to contractors, "Don't shortchange yourself on software solutions. Job costing is essential. Your customers want reliable numbers and we need to be able to deliver those bids out the door as quickly as possible."
What Does the Future Hold?
If you ask Kay what the future looks like, she says it's a bright and prosperous one. From her viewpoint, the recession offered a valuable lesson for Josh.
"It's hard to explain to someone who may not have experienced the difficulties of operating a construction business during that time period," she explains. "You can have large amounts of dollars going through your hands, but that means nothing. You have to learn to manage the business and keep your hands on all the pieces so whether your business is up or down, there is a plan to handle it."
The Lanahan's continue to look at other ways to diversify the business. They recently purchased a cast stone business and it's a very different one from the current operation. Kay says she wants to see how the revenue stream works, but feels like it is time to "stretch" a little bit.
While Josh is anxious and ready to take on a greater role in the business, he offers sage advice for other contractors.
"You have to be willing to put in the work," he says. "Protect your business. Take some chances. Take on jobs that might make you uncomfortable. Perhaps the biggest and most influential aspect is to have a handle on your numbers. The numbers will tell you what you can and can't do. If you don't know what it is costing you in your business, it can lead to disaster. Finally, stay involved. You can't be an absentee owner and lead by example."