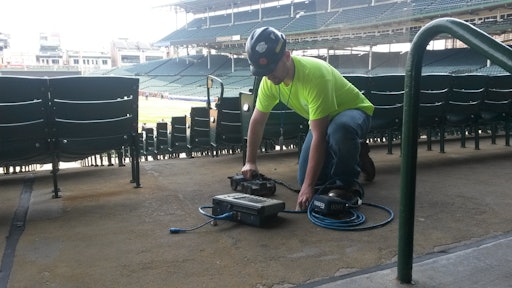 Despite the proven importance of identifying metal targets and electrical lines before cutting into concrete, every day there are stories about mishaps that happen when the necessary reconnaissance is not done. In this article, a few firms that provide concrete scanning services weigh in on the critical importance of locating embedded and or buried obstructions by scanning for these features using ground penetrating radar (GPR). Also offered are tips for selecting the best GPR equipment and best practices for using GPR to gather subsurface data.
Non-destructive technologies for looking beneath the concrete surface
Non-destructive testing methods are greatly preferred for locating buried metal targets or electrical conduits in existing structures. For many decades, X-ray technology was the predominant non-destructive technique used to locate and identify embedded targets. While concrete X-ray technology is still useful in some rare cases, concrete scanning using GPR has overtaken X-ray technology. It is now seen as the most efficient process to be used when trying to locate rebar, post-tension cables, or conduits in concrete prior to concrete cutting or any other destructive procedures.
GPR technology allows personnel to work quickly, efficiently, and accurately in real-time. Unlike X-ray technology, concrete imaging equipment can locate targets and their depths safely, without the need to vacate the jobsite. GPR is not radioactive and personnel can work safely around other construction trade workers on the jobsite. In addition, X-ray technology is very expensive to purchase, whereas most GPR equipment is affordable and much easier to use.
Emily Hammer, of Chicago-based Hard Rock Technologies, explains that scanning concrete using GPR helps with problem solving and avoiding potential problems. Hard Rock uses GPR to locate structural reinforcement and anomalies in and under the slab, as well as for void detection, and locating conduits. The firm's work has included investigations for a major federal building, the Willis Tower (formerly the Sears Tower), the John Hancock Tower, and Wrigley Field.
"Scanning concrete with GPR may cause some minor delays, but it results in a better product and avoids much longer delays that would happen from hitting a water main or causing a conduit to shut off. It also helps avoid the cost of damaged structure and pipes and the time spent repairing them." Figure 1 shows how GPR was used at Wrigley Field to determine whether renovations might be necessary.
What's at stake in identifying what's beneath the surface?
If embedded or buried obstructions are hit during concrete cutting, the results can be disastrous – from project delays, cost overruns, to worker hazards. Cutting rebar that is strengthening the slab steel beam structure could cause damage – or even cause the structure to fall. Cutting electrical conduit can result in a job shut down or cause serious injuries.
Take the examples offered by Matt Aston of Ground Penetrating Radar Systems Inc. (GPRS), located in Toledo, Ohio, which uses ground penetrating technology to provide critical information on utilities, materials, and other obstructions in or under structures. The firm has worked on some of the largest jobs in the United States, including the new Freedom Tower, professional sports stadiums, and Disney properties.
Aston says that he was recently in the field when he got an urgent call from a customer who was working at a manufacturing facility outside of Detroit. "He told me that they were 10 to 15 feet into a 50-60 foot long trench and had just cut through a bank of 480 volt electrical conduits. The operator got stuck on the saw for 3 to 4 seconds before the breaker tripped and the power was cut off. Luckily, he was okay, except for being a little sore." GPRS had worked for the customer in the past but had not been called in for this particular job.
At another site, what should have been a simple job to cap a hospital sanitary line, a concrete cutting firm used a jackhammer to break through a wall to cap the line. Unfortunately, on the other side of the wall was an electrical closet. The 4-foot square area contained 20-25 electrical conduits running through it, which were all broken or destroyed. The hospital had to shut down the power to the kitchen for the 400-bed hospital and make catering arrangements for 2 or 3 meals before power to kitchen was restored.
"The hospital president called me to a meeting to ask what it would have cost to scan the area," says Aston. "I told him it would have cost in the range of $600-700. Instead, their spending for electrical repairs and food was around $200,000."
Figure 2 shows the use of GPR to scan for concrete depth at a hospital.
Selecting the right equipment
GPR equipment for scanning concrete takes a beating, so it must be durable and rugged. It should also be easy to use, with an intuitive and bright display and high image resolution.
For example, New Jersey-based Atlantic Concrete Cutting Inc., dba as Atlantic Subsurface Imaging (ASI) uses the SIR-4000 high-performance GPR data acquisition system coupled with a GSSI 400 MHz antenna to locate underground utilities and obstructions to a maximum of 8 feet in depth beneath the surface. Results can be given to a client immediately to avoid damaging underground utilities and machinery along with preventing injuries to workers while excavating.
Designed to operate with both analog and digital antennas, the fully integrated equipment made by GSSI provides a simple user interface, plug-and-play GPS integration, and WiFi enabled data transfer capabilities. Nancy Walker, President and Owner, says ASI selected the system because of its higher resolution, advanced filters, and weather resistant design, as well as the fact that GSSI is an active member of Concrete Sawing and Drilling Association (CSDA), an organization looking to promote the use of non-destructive testing methods for concrete imaging. Figure 3 shows ASI using GPR to locate underground utilities beneath an asphalt roadway.
Matt Aston of GPRS explains that his firm uses a variety of antennas, depending upon the application. For concrete services, the firm primarily uses a 1600 MHz antenna in conjunction with GSSI's SIR-3000 and SIR-4000.
They also have about twenty of GSSI's StructureScan Mini, an all-in-one GPR system specially designed for concrete inspection. The lightweight hand held system locates rebar, conduits, post-tension cables, and voids, and can be used to determine concrete slab thickness in real-time. It locates metallic and non-metallic targets within concrete structures up to a depth of 20 inches. The system incorporates an auto target feature that marks the detection of features of interest. This function also estimates the depth of targets and automatically adjusts the depth scale. The StructureScan Mini is also offered in a 3D version.
Figure 4 shows the all-in-one device being used to scan a concrete slab in a warehouse.
GPRS also has sixteen 2000 MHz Palm antennas for concrete work. For applications where they need to see a little deeper underground, they use a variety of antenna frequencies, ranging from 400 to 200 MHz.
Aston explains that his firm selects equipment based on the quality of its construction. He looks for equipment designed to be used in the field and whose design takes field conditions into consideration. "The equipment is portable and designed in a manner that allows us to access areas that were not possible 10 years ago."
Emily Hammer of Hard Rock Technologies uses the SIR-3000 with multiple antennas. They use the 1600 MHz antenna for real-time scanning with no filters for most construction work. The 2000 MHz Palm antenna is used when the customer is cutting or drilling close to a wall or on beams.
Tips and best practices
Prior to concrete cutting, use GPR to determine the location and depth of rebar, conduit, and any other obstructions to avoid. This information allows the operator to know what can be cut, the depth of the cut, and what locations to avoid.
Says Atlantic Subsurface Imaging's Walker, "If you aren't using GPR, you are in danger of cutting reinforcement. Conduit is cut all the time and rebar is cut in steel beam structures. Using GPR solves a lot of those problems and is becoming more of the norm, especially in the past 3 years." She says the firm has been encountering more and more clients who are requiring GPR because it is part of a specification for work they are doing calling for scanning to be done before any concrete cutting is done.
For example, ASI located rebar in the concrete slab prior to core drilling at the Lincoln Financial Field, in Philadelphia. The firm also used GPR to locate rebar in the bridge deck prior to dowel drilling operations for the 8th Street Bridge, in Allentown, Pa.
Matt Aston of GPRS also affirms the necessity of using GPR. "There are other methods to help identify subsurface features, but I don't believe there is anything more dependable or consistent than using GPR to see into the concrete structure and to clearly define the paths and locations of buried features that no contractor wants to encounter during drilling operations."
He adds, "Whether it is an electrical conduit or a post-tension cable in a concrete slab, or a buried utility underground, it would be foolish for anyone to proceed with drilling or digging operations without first hiring a qualified GPR service provider. There are just too many risks that are associated with those types of operations. For a low fee that risk can be substantially reduced and in some cases eliminated."
Acknowledging that GPR is far from perfect, he says its use helps contractors know what hazards are buried in or below concrete slabs or underground and know the potential for enormous cost and inconvenience if any services to the building or operations are interrupted. He adds that most of the larger national contractors already include GPR scanning as part of their program. They opt not to cut or drill without checking with GPR first. "They buy into the view that it's simply irresponsible to proceed before scanning. However, hitting items buried in concrete still happens frequently among other contractors."
Ironically, Aston has found that a lot of times his firm is called out after the concrete cutters have hit something and there's nothing else left to be worried about. "If they had called us yesterday we could have saved them so much trouble! As he sees it, the problem is that the jobs are bid very competitively, so you have companies fighting over 2 or 3 percent margins. When there's that little room it is tough to make a decision to include something that was not included in the bid. But what ultimately happens is if they choose not to spend on GPR services, they wind up cutting something, and paying more in repairs then they would have if they had bought the GPR.
Follow Concrete Sawing and Drilling Association (CSDA) guidelines
There is growing support for the industry-wide training/certification program being developed by the American Society for Nondestructive Testing (ASNT) and the Concrete Sawing and Drilling Association (CSDA) over the past few years. The program will codify the practices for cutting contractors to provide owners, architects, engineers, general contractors, and government officials with a valuable pre-qualification tool that acknowledges sound business practices.
Nancy Walker, of Atlantic Subsurface Imaging, is a huge proponent of the new proposed CSDA standards, saying they promote professionalism in concrete cutting. Parent company Atlantic Concrete Cutting Inc. is one of thirteen CSDA member companies meeting the requirements for its certification program.
"The certification application process gave us an opportunity to do a self-assessment in areas such as safety, training, quality control, customer satisfaction, and compliance management," said Walker. "Overall, the CSDA company certification has resulted in a more professional approach across the company and a greater sense of pride taken by all for the work they and the company are accomplishing."
Walker explains that among other items, proposed standards will include concrete scanning best practices that can be used when developing a scope of work that requires concrete cutting.
Hard Rock Technologies' Emily Hammer affirms the need to develop national standards, noting that for the past three years she has been working on updating imaging best practices and incorporating them into CSDA industry standards. As co-chair of the CSDA Imaging Committee, she and other imaging contractors have been fine-tuning the document,
Hammer notes that her firm already uses the practices outlined in the CSDA's Ground Penetrating Radar for Concrete Imaging and recommends others adopt the guidance. Also recommended is use of CSDA's Depiction/Marking of Existing Subsurface Embedments, which provides an overview and methodology for properly marking out embedments found with GPR. The guidance includes the preferred marking color, use of any temporary marks, marking of exclusion zones on either side of GPR scanning areas, and how to mark depths. Figure 5 shows a marking scheme for locating post tension rebar in a high-rise building.
Maintain good communication with imaging contractor
Another tip for concrete cutters is to maintain good communication with the imaging contractor to avoid misinterpretations of data.
Hard Rock's Emily Hammer explains that the area is first laid out by the contractor and then Hard Rock scans the concrete. "Without the GPR, it's just a concrete floor, but with the GPR equipment we are able to gather the data and transfer it onto the slab in a way that communicates what is going on in the slab. Then we communicate verbally with the contractor on what the marks mean. This may cause a changed layout or confirm that the original location was acceptable."
There must be communication between the two on what the markings mean because there is not yet a standardized marking system. "My marks look different from another contractor's. CSDA is also trying to standardize the markings, but even when that is done, communication would still be important so all parties have an understanding of what is going on." She notes that the new proposed CSDA standards call for the imaging contractor to do a follow up walk through on the jobsite to ensure the job is done to their understanding.
Concrete cutting firms need to know the location of rebar, post-tension cables, and conduits within concrete structures prior to drilling, cutting, coring, trenching, or digging. Not doing so opens up the firms and their customers to damage claims and potential safety hazards. Using GPR – and following CSDA's imaging standards – is the best way to avoid delays and ensure safety.
Companies in this article