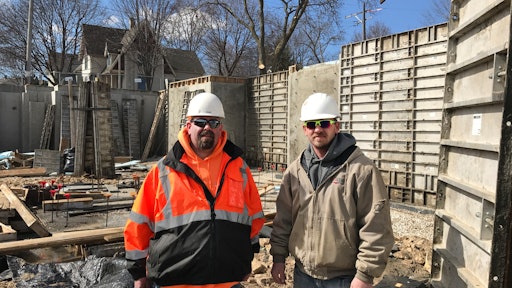 Van Wyks Incorporated was founded by Arie Van Wyk in 1978 in Waldo, Wisconsin. The company's focus was on serving farming businesses. They started by moving houses and barns. In 1985 he purchased foundation forms to build walls and foundations at the locations they moved buildings to—they were now a concrete wall contractor. During this time they also sold farm machinery and this is something the company still does. Arie's philosophy was to be a wide spectrum business.
"In 1985, when my father bought aluminum forms to enhance our building moving business, we also started installing foundations for new homes and multi-unit housing," says Matt Van Wyk, Arie's son and the current Chief Operating Officer of the company. They also began to install concrete foundations and walls for commercial multi-family projects and this involved installing taller walls. Shortly after that they moved into warehouse construction where they cast both walls and large floors.
Matt says he grew up in the business and it was always what he wanted to do. He remembers working in the company shop when he was five years old and by the time he was twelve he was operating their skid loader and working on the foundation forming crew. "By the time I was twenty one years old I supervised four flatwork crews. In 2004 we started an excavating business for houses and multifamily buildings; I operated a track-hoe almost daily. In 2014 I took over the business from my dad," he says. His father considers himself partially retired now but he is still involved on a part time basis and this makes it possible to do other things when he wants to.
Next generation management
Matt says his father believed it was important for the company to have a wide work spectrum when they started and this is still the company philosophy. They still sell farm equipment and market concrete work to the farm community. Farmers are currently installing robotic milking stations so Van Wyk sells the concrete work for these high-tech installations. But Matt also wants to move the company into new markets and use the latest technologies.
Latest technologies. Matt believes the concrete industry will grow a lot in the next ten years and he wants to keep up with new technology. In 1994 Van Wyk was among the first foundation contractors in the country to invest in Robotic Total Stations for doing layout work in the field. Today they own several robotic stations and just bought two new Leica units. He purchased them from Scott Carter's company Robotic Surveying Solutions located in Farmington, Utah, Carter sells the unit and trains employees how to use them effectively. Matt learned about Carter through Van Wyk's membership in the Concrete Foundations Association (CFA) based in Mount Vernon, Iowa. Carter says that training is always included when he sells a unit. "I spend two to three days teaching employees how to use the instruments," he says, "Then they get 24/7 phone support to help solve problems." Currently Van Wyk has six employees (including Matt) who are trained to use the robotic stations for layout work.
Van Wyk uses a computer assisted drawing program (CAD) called Auto Crete by GDB Software, Prescott, Arizona, to draw plans or import them from bid sources. When the drawings are complete they are sent to the robotic stations, a process that can be accomplished via Wi-Fi. The Leica system includes rugged Panasonic tablets with 10 inch screens that make it easy for workers to see drawings and make changes to them when it is necessary. Carter characterizes the system as both easy to use but also in-depth.
Matt says his company has owned aluminum forms for many years because they are lightweight and easy to use. But they have decided now to build on their form inventory with Western Forms, Kansas City, Missouri from this point forward. Their wall and deck forms (easily joined together with ledger forms) make it easy to build concrete homes. He is interested in building them and is trying to develop the market in his area.
Matt's ultimate dream is to own a "3D concrete printer" (like a computer printer, the "ink" is concrete that is placed without forms to construct walls and structural pieces) for building walls and houses. For now he is following the technology and waiting for the time when the system is ready for prime time.
New markets. Like his father, Matt wants the company to have a wide range of offerings. The goal now is to do more commercial work. This includes warehouses, condominium developments, multi-unit and multiple floor housing, and commercial office structures. As stated earlier, they also want to build concrete housing.
River Walk on the Falls
In October of 2016 Van Wyk won the contract to provide the concrete work for the "River Walk on the Falls," a multi use development in Menomonee Falls, Wisconsin. It is a 55,000 square foot, 117 unit project. Their contract includes 3,200 lineal feet of walls with heights varying from four to 15 feet in height and an elevator pad. "There are also 292 corners to form," Matt says. They will place 190,000 pounds of rebar in walls and footings. They also signed a contract to install 12,000 square feet of stamped concrete walkways and special areas.
The multi-purpose building includes a basement parking structure, and a swimming pool with a large radius wall nearby. They will also place over 1,000 cubic yards of flowable fill (a low strength very flowable concrete mix). Adding to the difficulty of the project, the Menomonee River is only 20 feet away from the building and the top of the river is six inches above the basement floor.
Van Wyks today
At the height of construction activity before the depression starting in 2008, Van Wyk had over 100 employees. Today they have 57 and they are more. Their use of new technology as well as higher productivity has increased during the intervening years so comparing the number of employees isn't an apples-to-apples comparison. "Finding good key employees for lead positions is also a big challenge. It's a national problem that limits a company's ability to grow. We are also losing veteran construction workers, Matt says .
The River Walk project is helping Van Wyks take a major step closer to their goal of building in the multi-unit construction market and Matt is excited about the company's future.