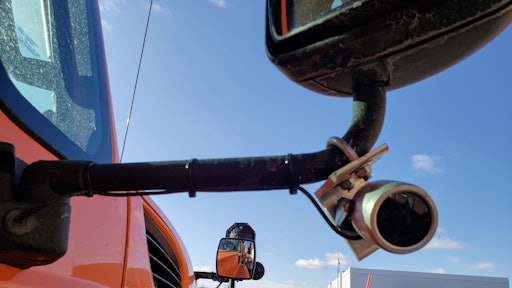 Dakota Micro
"You can't buy a car nowadays without a backup camera and a backup sensor," says Gary Manske, sales and marketing director for Dakota Micro. If you can afford a new cement truck with these technologies installed directly from the manufacturer – great. However, the trick comes when trying to retrofit solutions for your current equipment and into your safety procedures.
According to the U.S. Department of Labor, Occupational Safety and Health Administration, one of the requirements of Section 1926.601(b)(4) states (to paraphrase) that no motor vehicle either a truck in construction, earthmoving or compacting equipment, will be permitted to be used should that vehicle have an obstructed view to the rear. Unless that vehicle includes an audible reverse signal alarm, that vehicle is backed up only when an observer signals when safe. (Permissible methods of operating trucks in reverse on construction sites. | Occupational Safety and Health Administration (osha.gov)
More on how technologies are being integrated into truck/jobsite safety:

Combined Camera and Radar Technologies Enhance Construction Site Safety

Smart Work Truck Technology Minimizes Construction Jobsite Collision Risks
Hang on, Let's Back Up a Second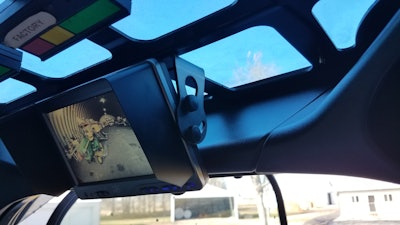 Backup cameras and sensors (if installed), should be capable of informing the driver when they are too close while backing up. Where more modern trucks and vehicles may have these safety systems as standard from the get-go, retrofitting them into older pieces of equipment that may not have the features and capabilities is slightly more challenging. Dakota Micro addresses this exact situation with a portable— and durable—high-resolution video camera. Interestingly enough, the very same OSHA Section referenced above allows the use of a backup camera.
"With the Dakota Micro EnduraCam with monitor, with the cabling options…you can now aftermarket fit your vehicles and still gain that same efficiency and improve that safety factor for both the company as well as the workers around the vehicle," says Manske. Even if a truck does have a backup camera, the EnduraCam's portability allows contractors to place this additional camera exactly where they want through a magnetic mounting option and wireless connectivity. (Note: There is no integrated battery into the camera.)
The company places all options on the table. For example, aside from getting that backup camera mounted onto the rear of the cement mix-truck, place a camera on the pumper at the hopper, place one at the jobsite to watch the entire area— not just what's behind the truck. "It all depends on the setup and what makes the most sense for that particular application…there is flexibility to be able to configure these systems for [the contractor's] use and not just a one-size-fits-all," says Manske.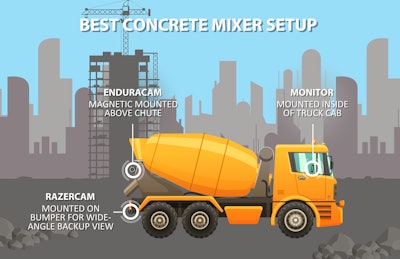 As plug and play as technology can get, the system includes a transmitter and receiver already programmed to pair with each other and the cameras. The company also includes any necessary cabling should you want to hardwire the cameras. You'll get a better resolution with hardwired, but it isn't mandatory. The camera, transmitter, and receiver all run off of a 12 V power source. Its cables are a flexible silicone.
One word that is typically not used in conjunction with high-end cameras: durability. The body of the EnuraCam is carved out of a solid billet of anodized aluminum. The lens is triple-hardened glass. Why that matters is due to one issue with a plastic lens: static electricity. And since the construction site will have dust, a plastic lens can become coated rendering the camera unusable. Since glass does not conduct static electricity, you won't have to clean nearly as often.
For proof of the camera's durability, the team lent an EnduraCam to Dave Turin, of the show "Gold Rush." While it did eventually break, you'll be surprised at what it took:
Behind the Lens
The technology behind the lens also allows it to focus on both the lit and dark areas captured in the frame. The intent is to allow you to be able to see inside with a camera posted on the exterior - otherwise camera technology might set automatically to only the exterior light rendering anything "inside" dark or only the dark and have everything bathed in natural light overexposed. "If you're backing into a shed or a dark warehouse building, you know, normally a lot of cameras, even your car, a lot of times like it doesn't know if it should interpret the bright sunlight that's outside or the dark of the shed you're going into," explains Manske.
"It's also photogray," says Manske. "If this is looking into the sunlight, it's going to darken. You're not going to have to worry about things like sun glare as it filters out the sun." In comparison, a lesser-quality camera might likely whiteout if facing into the sun and basically undo any purpose you have for putting that camera up in the first place.
Another key factor in camera technology is field of view (FOV). Dakota Micro provides a range of options to make sure you see what you need to see. Both the AgCam and EnduraCam models feature a 92-, 46-, 21- and 15-degree FOV. A third model, the OverView, only comes available with a 120-degree FOV - but the tradeoff is the loss of the IP69 rating. Considered their "value" model, its lens is plastic instead of the triple-hardend glass lens.
Companies in this article