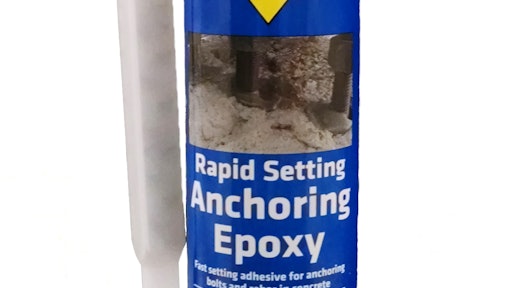 Sakrete recently introduced a line of epoxy products designed to securely anchor bolts or objects into concrete or masonry surfaces. Sakrete Rapid Setting and Sakrete High Strength Epoxies will be demonstrated at the World of Concrete show Jan. 17-20, 2016.
"When it comes to anchoring thread bar or rebar into cement, our customers use heavy-duty epoxy to get the job done," said Andrew Krawchyk, Sakrete and Amerimix National Product Manager. "Now, they can rely on the same name they trust for concrete to securely anchor fixtures such as railings into concrete."
Sakrete Rapid Setting Anchoring Epoxy can be used in both horizontal and vertical applications. Designed for those jobs where a rapid completion time is needed. Working time is about 15 minutes at 75° F with a full cure in approximately 10 hours. 
Sakrete High Strength Anchoring Epoxy is designed for those bonding applications requiring exceptional pull out strength. High Strength Epoxy provides 30% greater pull out strength than Rapid Setting Epoxy. Working time is about 28 minutes at 75° F. Full cure time is 24 hours.
Sakrete's Anchoring Epoxies come in two-component single tubes that are applied using a standard caulking gun. Drilled holes, surfaces and fixtures should be dust free and cleaned of grease, oil and other contaminants before using the epoxy. 
For more information on Sakrete's line of epoxy products, visit booth S10827 at World of Concrete.