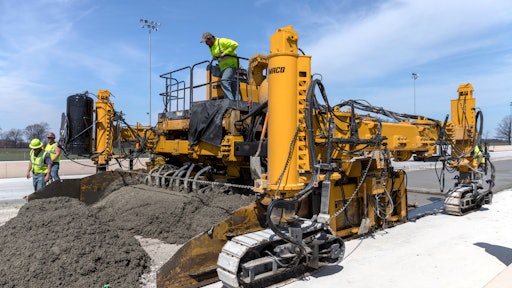 Summit Motorsports Park, Norwalk, OH, is home to the annual Summit Racing Equipment National Hot Rod Association (NHRA) Nationals. The NHRA Summit Racing Series is contested across North America and features as many as 80,000 racers. In terms of racing participation, it is the world's largest motorsports program.
Norwalk (pop. 17,000) welcomes thousands of race fans to Summit Motorsports Park each year for more than 50 different racing events. The private, family-owned track aims to provide elite motorsports entertainment. And to continue to give fans the experience they expect, the operators wanted to give the track a new look, and a new feel, for the 2018 season.
In the racing world, concrete tracks improve drainage, aesthetics and speed. The potential benefits of an all-concrete track caught the eye of Bill Bader Jr., president of Summit Motorsports Park. After researching for three years, the transition from an asphalt and concrete surface to an all-concrete track became more than just an idea.
"Our track surface has worked well, but since we became part of the NHRA in 2007, I've been thinking about ripping out the track and starting over so that we have an all-concrete surface rather than a concrete and asphalt surface," Bader Jr. said in an NHRA.com article published on January 2, 2018.
"We really got aggressive about it three years ago, and we've been researching it and talking with Jim Head, who races a high-horsepower car and is a concrete paver, so he has an understanding of what's needed to ensure a high-quality track." 
Track Transformation Process 
Looking to create one of the top tracks in the world and the sixth all-concrete racing surface on the NHRA Mello Yello Drag Racing Series schedule, Bader Jr. turned to Miller Brothers Construction out of Archbold, OH, to complete a $1.6 million quarter-mile track reconstruction with the help of Norwalk's Smith Paving & Excavating, Inc. as a concrete subcontractor.
Smith Paving & Excavating Inc. began its portion of the six-week transformation project in March 2018 with high standards, a tight timeline and poor weather, making the project more challenging than many other jobs. Despite the obstacles, Smith Paving & Excavating Inc. worked efficiently to ensure high-quality results.
Focusing on the staging area and track, Smith Paving & Excavating, Inc. began pouring new concrete from guard wall to guard wall from the staging lines through 100 ft. past the finish line, where the concrete would eventually meet new asphalt from that point to the sand trap at the end of the track.
In order to create the all-concrete track and comply with the new OSHA silica dust rule, the contractor required equipment that offered optimal productivity and safety features. 
Smith Paving & Excavating is a devoted user of GOMACO concrete paving equipment. For the track project, the contractor used a paver equipped with 16 HV-2 internal paving vibrators from Minnich Manufacturing.
"We've been working with Minnich for nearly 40 years, and without them we don't pave, slip, curb or gutter," Dilger says. "They help us every day."
The HV-2 Series hydraulic internal paving vibrators are suited for most slipform applications and are designed to withstand the rigors of the industry. For mainline paving, the block isolator offers better shear spring rate, less area for concrete buildup and a greater rubber-to-steel bond area, which leads to reduced transfer of vibration to the paver. A two-isolator setup can fit into tighter areas for barrier wall molds while the hydraulic hose features an abrasion-resistant coating to help reduce vibrator failure.
"The HV-2 series vibrators are very consistent from unit to unit," said Derek Dilger, vice president of Smith Paving & Excavating, Inc. "They give us consistent compaction throughout the pour, which is very important in a project like this."
Working to create a 9-in. concrete pavement track, Smith Paving & Excavating, Inc. required more than one type of drill. For the longitudinal joints, the contractor used Minnich A-1 Series on-grade dowel pin drills. When it was time for bolts, Smith Paving & Excavating utilized the A-1 UTL utility drill. This unit helped the company to drill using minimal air with a lightweight design, making it an ideal alternative to an electric hammer drill.
A Minnich dust collection system was added to each drill to maximize operator safety and to comply with OSHA silica dust requirements. Featuring Venturi-style suction and manual or automatic purge control, the pneumatic Minnich dust collector removes dust from the air as the operator drills. The canister-style unit can accommodate up to two drills and offers a 60-square-meter filter area.
Success at Summit
According to Dilger, the Minnich equipment helped to expedite the reconstruction process, and Smith Paving & Excavating Inc. was able to accomplish efficient and quality work. And the process of going from asphalt to concrete has paid off.
"They've got a new track surface there and the track has always been good for us," Andrew Hines, five-time Pro Stock Motorcycle (PSM) world champ said in a June story posted on NHRA.com. "I love the facility and the Bader family; they're a great family. There's a good fan base, big grandstands and a great atmosphere."