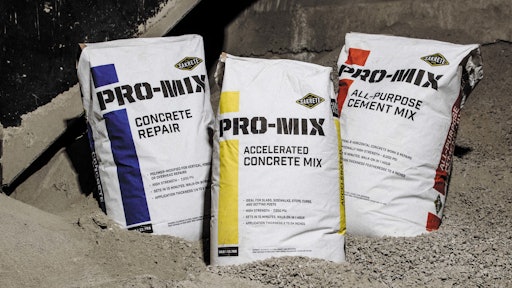 Sakrete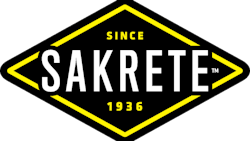 Delivering higher strength and accelerated set times than standard concrete mixes, Sakrete's Pro-Mix line of industrial-strength, fast-setting concrete mixes allows most projects to be traffic-ready in less than an hour, perfect for repairs to utility cuts, parking lots, roads, bridges and overpasses and more. In addition to incredible speed, Pro-Mix is engineered to deliver extended working time, solving the major challenge with other fast-setting repaid mixes.
All Sakrete Pro-Mix products meet or exceed ASTM C387, and require only 15-minutes to set with a high-strength finish, allowing pros to complete more work in less time. Before beginning any DOT repair, please check state DOT requirements which may vary. 
Sakrete's Pro-Mix line is Department of Transportation (DOT) approved in several states including Texas, Oklahoma, Tennessee, Georgia, Mississippi, North Carolina and Florida – with more states currently nearing approval.
Pro-Mix Accelerated Concrete Mix
Ideal for repairs and construction of concrete over 2-in. thick, Sakrete's Pro-Mix Accelerated Concrete Mix is the ultimate pre-blended concrete solution for indoor and outdoor applications where rapid return to service is crucial. The mix is specially formulated for quick turnaround times with excellent workability and a first-class finish for building and repairing driveways, sidewalks, formwork, warehouse floors, footings, post setting and more. Full-depth repairs and DOT applications can achieve a drivable surface with a compressive strength greater than 3,000 psi in just one hour, with a final strength of over 7,000 psi.
Pro-Mix Concrete Repair
For challenging concrete repairs from 1/4 in. to 6 in. thick, Sakrete's Pro-Mix Concrete Repair is the ideal mix. Designed for horizontal, vertical and even overhead repairs, Pro-Mix Concrete Repair is polymer-modified for superior bond strength, smooth workability and can be easily molded to conform to irregular surfaces and odd shapes. Perfect for beams, columns, deep scarring in walls and more, the high-strength, fast-setting mix offers strength of more than 3,000 psi in just 1 hour and more than 7,000 psi at 28 days.
Pro-Mix All Purpose Cement Mix
Tackling repairs to spalled concrete surfaces, smoothing pop outs and replacing chipped corners has never been easier thanks to Sakrete's Pro-Mix All Purpose Cement. Created for surface repairs that require a feather edge or larger repairs down to 4" deep, Pro-Mix All-Purpose Cement knocks out more repairs in less time than any other repair mix on the market. Formulated for an exceptional feather-edge finish, All-Purpose Cement repairs uneven, raised, cracked or chipped concrete surfaces quickly and easily. The cement features a shrink compensating mix and enhanced crack resistance for long-lasting horizontal, vertical and overhead repairs. The mix develops strength greater than 3,000 psi at 1 hour and 9,000 psi after 28 days.
Request More Information
Fill out the form below to request more information about
Sakrete Pro-Mix Family