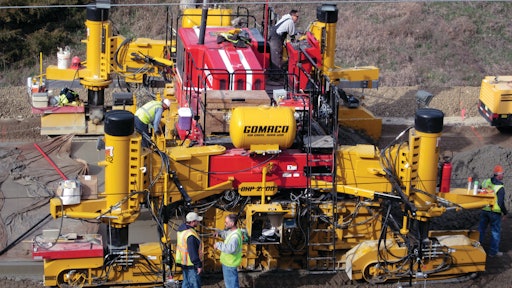 GOMACO says the electric-over-hydraulic control system in its GHP-2800 concrete paver offers easy, accurate adjustment and an instant, controlled response.
GOMACO's digital operating system allows its slipform pavers to be controlled by automated three-dimensional  machine-control systems, and not by stringline. A graphical display on 6.5-in. anti-glare display screen provides easy-to-understand icons and multi-language commands.
The GHP-2800 is the first GOMACO?paver to feature G+ Connect, a new CAN-based network on GOMACO products that allows fast, two-way communication between all accessories and the exclusive G+ controller. GOMACO says sensored feedback ensures tighter, faster, and more accurate machine corrections.
Paving widths: 12 ft. to 25 ft., with option to 32 ft. with frame inserts
Standard 16 vibrators with eight optional additions
T-beam rail for positioning mold
Two-track paver has minimum transport width of 12 ft. and length of 19 ft. 3 in.
Four-track version has minimum transport width of 8 ft. 2 in. and length of 36 ft. 6 in.
325-hp Caterpillar C9 8.8-L diesel
Modular frame telescopes up to 6.5 ft. on both sides of the machine for a total of 13 ft. of extension
Brochure: GOMACO GHP-2800 Concrete Paver
Request More Information
Fill out the form below to request more information about
GHP-2800 Slipform Concrete Paver