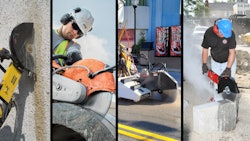 Cutting concrete is one of those jobs that has to be done right the first time. The wrong cut in the wrong place can either cause unnecessary damage to the project (causing money), damage to the tool (causing money), or burn through consumables like blades far too quickly (causing, you guessed it, money). This guide collects the technical information you need to help you pick the right concrete saw for the job at hand.
Download the Concrete Saws Specification Guide with the button below.
As seen in Concrete Contractor June/July 2021.