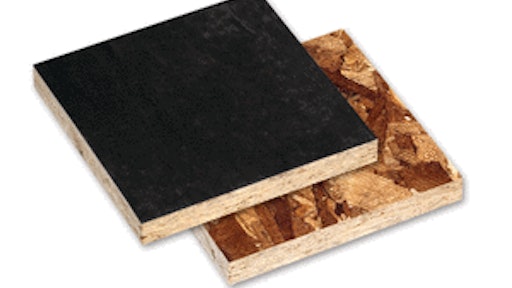 Aluminum Footing Form System
Four main components: forms, locking cross bracket, grade bracket and outside corner bracket
Eliminates need for lumber, stakes, nails or ties
Grade is set down inside the forms
Panelization software program available for easy job layout
Use the adjustable Slip-Form option to fill in remaining gaps after "building to the stakes;" useful when using robotic layout systems
Fine Line Footing Forms Inc
ArcVoid and SureRound PierVoid
Factory-assembled void forms that conform to the circular shape of drilled piers supporting grade beams, pier caps, pilasters, and slabs
Constructed of corrugated paper, with a moisture-resistant, waxed exterior
Available in round, square, and rectangular shapes in nearly any dimension
Can be used in above- and below-grade installation applications
Custom-made to project specifications, sizes, and strengths
SureVoid Products, Inc.
Big W
Crane-set system designed to stack for tall-wall, high-rise projects
Ideal for fire, sound barrier and retaining walls; commercial, multi-family and agricultural building; and mid-rise and high-rise structures
.125"-thick face sheet designed to handle pressures in excess of 1,250 lbs. per sq. ft.
Available in heights up to 8', 9', and 10', and in lengths from 8' to 16'
6 lbs. per sq. ft.
Compatible with aluminum forming systems
Features include Lift Rings to eliminate "hook up" man, Center Spine that accepts tie patterns and locations necessary to fit your project, gasketed side rials and tie holes, and round taper ties or flat tie systems
Western Forms Inc
Ez-Footing and Ez-Flatwork forms
Ez-Footings
Reusable aluminum system that is fully adjustable in height and length
Lightweight and rigid
Two-sided form -- no dominant top, bottom, left or right
Unique tie system, leaving the top of footings unencumbered for finishing
Ez-Flatwork and Ez-Tilt-Up also available
Concrete Forms Services
Fastfoot
Can be used a complete footing form or as an edge form
Prevents rising damp
Lightweight -- 120 ft. of fabric weighs only 12.4 lbs.
No forming lumber
Stay-in-place form
Fab-Form
Form-A-Drain
Combination concrete footing form system, foundation drainage system and radon reduction system for residential basement applications
Vinyl lineal sections are used to form the footing, then remain permanently in place after the concrete is poured
Collects groundwater and transports it to a sump pit or a drainage pipe going to the outisde; radon gas is also collected and safety evacuated through a separate vent pipe.
Avilabe in sizes 4", 6", 8" and 10"
Manufactured from 100% pre- and post-consumer PVC
Reduces jobsite waste by eliminating the need to install, remove and dispose of footing forms
CertainTeed
Form-Lite Formliner
Lightweight
Field cutable
Chemical resistant
Multiple uses
Custom Rock Formliner
JackJaw
Form pin and stake extractor
Most pins will break loose with a single pump of the hand
Pulls pins straight up out of ground or sub-grade without bending them
Two sizes -- 14- or 29-in. tall
Removes 3/4- and 7/8-in. round nail stakes, "T" fence stakes, string line stakes, and pulls stakes on curves and soft ground
Construction Accessories, Inc.
Mid-Size Landscape Block Form
Design Pro's Mid-Size Landscape Block Forms create concrete blocks that are heavy enough for most applications and small enough to be moved with a skid steer.
Creates four blocks with one pour in one form
Each block is 12 in. high by 24 in. deep by 24 in. wide
Blocks weigh 560 lbs.
Formliners create attractive stone face
World Block
Octaform Concrete Forming System
Octaform Systems offers a stay-in-place insulted concrete forming system ideal for foundation, parking garage, agricultural, commercial, multi-unit residential, and industrial applications. Octaform Concrete Forming System consists of PVC components that enclose the concrete to form a watertight protective shell. Configurations can be in straight lines or curves and the system can easily integrate with covnventional wall products including cedar, stucco, drywall or wood panels.
Octaform Systems Inc.
Plastic Column Forms
Use to form columns, piers, light post bases, fire proofing "I" beams, etc.
Lightweight, reusable, waterproof and stackable
Easy to strip and clean, and leave no spiral marks
Available in 12", 16", 18", 20", 24" and 30" diameters
Deslauriers
Poly Meta forms
Poly Meta Forms system utilizes plastic forms in conjunction with steel stake pockets to place all types of concrete.
Light weight makes it easy to set, strip and transport
Moisture-resistant will not rot, splinter or rust
Capable of withstanding harsh construction conditions and over 100 reuses
Easy to clean, low-maintenance design
Flatwork and curb and gutter forming systems with straight and radius forms
Metal Forms Corporation
Pourform-OS
Concrete-forming panel comprised of proprietary OSB substate and an enhanced MDO overlay
Compared to B-B Plyform, Pourform-OS has equivalent or better resue
Designed to reduce telegraphing of strand pattern, reduce transfer of wood fibers, and have an easier, quicker release
Saves costs on remedial work and is FSC Certified on request
Standard sizes are 4 ft. x8 ft. x 5/8 in., 11/16 in. or 3/4 in. thick
Ainsworth Engineered
Self-Rising Core System
Construct high rise cores crane-free
System allows for one lift of a building core every two to three days without the need of a tower crane
Hydraulic cylinder units allow movement to the next pour level
Attach your placing boom to the system
Universal Building Products, Inc.
Sonotube Finish Free Concrete Forms
Lengths up to 20 ft.
Produces exceptionally smooth columns without any manual finishing
Patented Duraglas coating on the inside eliminates spiral marks, seams and imperfections that would otherwise be left on the finished surface of the concrete
Available in 12- to 36-in.-diameter sizes
Made with Rainguard technology to prevent moisture damage and contain the RipCord feature for quick removal after the forms set
Sonoco
Thermomass
Building insulation system for concrete cast-in-place, tilt-up and precast walls
Results in load-bearing, durable, moisture-resistant, highly energy-efficient concrete sandwich walls
Insulation system uses Dow Styrofoam and Dow ISOCAST insulation
Fiber composite connectors are non-corrosive and possess very low thermal conductivity
Use above or below grade
Use to gain LEED points
Composite Technologies Corp.