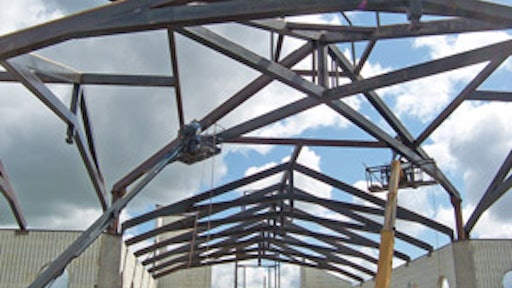 Green building is on the rise, along with energy prices and customer demand for buildings that can hold up to severe weather. As a result, many customers are turning to concrete for their homes and buildings - and a growing number of them are choosing to build concrete structures with ICFs (insulating concrete forms).
These stay-in-place forms produce a building that can stand up to high winds, tornadoes, hurricanes and seismic forces. In addition, some ICFs offer up to a three-hour plus fire rating and produce a structure with a quieter interior than more traditional building systems. For clients looking to save money on energy costs, ICF structures typically require 44 percent less energy to heat and 32 percent less energy to cool.
As ICF popularity grows, contractors from many facets of the construction industry are learning to integrate ICFs into their businesses. Concrete contractors are in a particularly good position to take on ICFs.
"For some concrete contractors, adding ICFs to their lineup of services isn't such a large step to take," says Sherri Bebee, director of marketing, training and communications at Arxx Building Products. "They already have the working knowledge of how to build concrete walls." Bebee adds that ICF construction uses less equipment, fewer people and is physically less demanding because workers don't have any heavy equipment to move around.
"It's a simple transition to ICF if you're already doing traditional basements using removable formwork," says Gary Brown, director of sales and marketing with Amvic Building System. "With ICF, you're putting the forms on a footer, placing rebar, bracing and pouring concrete into the forms. With traditional forming you're doing all that, but you've got to go back to the jobsite and take the forms off at the end of the job.
"When you look at the cost difference between an ICF wall and a traditional cast-in-place wall," Brown continues, "you have to remember you're getting a full wall system with the ICF - reinforced wall, insulation, vapor barrier, air barrier, and the webs become the strapping for wall attachments both on the interior and exterior. And the total construction time is significantly reduced."
"ICFs allow a concrete contractor to work from the footers to the rafters on a project," says Jim Buttrey, senior vice president at IntegraSpec ICF. "With multistory concrete construction and concrete flooring systems, there's more for them to do on an ICF project - they can stay on-site longer and get more work out of a job."
Buttrey also points out that ICFs are a nice fit for builders looking to get into residential or commercial "green" building systems, since ICFs can be used toward certification on green building projects. Buttrey explains that there's little jobsite waste when building with ICFs, and the finished product is highly energy efficient. "A final R-value (resistance of heat traveling through something) is site specific, but the IntegraSpec product has an R-22 value. Individual ICF projects can exceed R-60 once installed," Buttrey says.
ICF becomes part of the biz
John Trio of Trio Concrete out of Mapleton, Minn., performs mostly cast-in-place walls in the agricultural sector and all sizes of flatwork jobs for residential and commercial, but about four years ago he began offering ICFs to his customers. He says ICFs boosted his business by about 10 percent in 2006 because of the new job opportunities his crew of eight were able to take on. "If I have all my panelized forms at a jobsite, I can leave a couple guys at that jobsite and go and do an ICF project on another site," Trio explains.
ICFs have also given Trio the opportunity to branch into the secure buildings market. These structures, which house treatment centers and the like, commonly need to meet certain requirements to prevent residents from leaving when they're not supposed to. After comparing the cost of a traditional secure building (including special sheet rock, steel studs and other secure requirements) to one built using ICFs, Trio found that he could offer a building that met all the requirements for security at a lower price. Trio has been part of the construction of five of these 20,000-sq.-ft. buildings using ICFs.
Trio has found he can use ICF forms in conjunction with cast-in-place systems on projects to save time and money. "When doing a house foundation with ICF, I can bring in my panelized forms and do the garage foundation," he says.
Trio adds that although he hasn't found a widespread use for ICFs in the agriculture industry in his area, the ICFs have made his life easier on some jobs where he has to butt up against an existing building or an instance where it wouldn't be easy to take down the removable forms. "In unique situations like this, it reduces the cost of having a crew manually build the forms," he explains. "Even though the ICF forms are staying there, you don't have the labor involved with trying to manually and structurally build a form." He adds that these specially built forms usually end up in the trash anyway.
Kurt Matson, of Matkon Foundations in Mankato, Minn., has been in the concrete business for seven years. Matson is a licensed general contractor and started offering ICF construction as a way to set himself apart from other contractors in the area. Currently, 30 to 40 percent of his sales are associated with ICF jobs. Mostly residential, Matson still offers cast-in-place concrete walls.
Matson explains that his ICF customers are a different breed. "The ICF work we get is almost always construction-educated people who have done their research and are on their second or third house," he says. "The more educated the consumer, the better the project. They are usually higher dollar homes and the owners are easier to work with because they're knowledgeable about the process."
Matson says by the time his commercial ICF customers come to him, they have already decided to build with ICFs and are just looking for someone experienced to perform the project.
In Central Point, Ore., Darrin Thornton, a fifth-generation concrete/construction contractor, has carved out a niche for the last 12 years using ICFs in his area with his company PolySteel Alternative Building Systems, Inc. Thornton serves mostly as a subcontractor on a wide range of concrete construction jobs, including decorative concrete, flatwork, post-tensioning and ICFs.
Thornton works with ICFs on the majority of his jobs, and he says the addition of the system has expanded his mostly custom residential company into the commercial construction world. "The block offers an almost soundproof four-hour fire wall and qualifies for LEED (Leadership in Energy and Environmental Design) points, which many commercial projects seek," he explains.
"Concrete is what we do," he continues. "And ICF lends itself to the concrete industry. On a jobsite, we can come in and do the footing, stack the wall, pour concrete in the blocks, pour garage floors and do any decorative stamping or color on the project."
Thornton says a lot of people call him because they know he offers ICF installation; then he can offer his other concrete services. "We can pick up other types of work on the job and we like that, because we know we're setting our block on something we know is square, level and flat."
Companies in this article