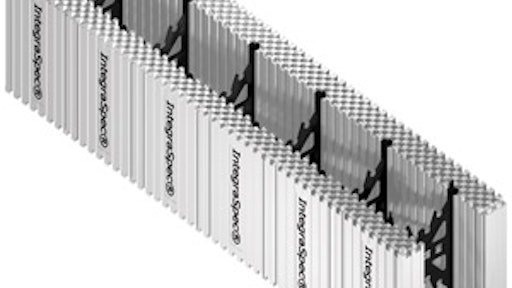 There are many ICF systems to choose from. Select one that meets the needs of your project, whether it be above or below grade, residential or commercial.
IntegraSpec System
Suited for commercial, industrial, institutional and residential construction
Patented interlocking system eliminates concrete blowouts
Now available with 5-in. web that, when combined with 2.5 in. of insulation on both sides, matches the standard 10-in. concrete masonry unit
IntegraSpec
Arxx ICF
Reinforced with steel rebar
Four-hour fire rating, far surpassing wood frame construction
Energy savings of up to 50 percent compared to traditional construction methods
Arxx Walls & Foundations
BuildBlock ICF
Fully assembled
Completely reversible
Convenient molded-in cut and measuring lines
Strong interlocking connections and high-density plastic web ties located 6 in. on center for extra strength during concrete pour
BuildBlock
PS 3000 Waffle Grid Form
Uses 25 percent less concrete than flatwall ICF forms
6- and 8-in. forms connect with 21/2-in. concrete webs; 10-in. forms connected with 31/2-in. webs
45° and 90° corners
Recessed 11/2-in. studs
American PolySteel
Amvic ICF
Reversible FormLock interlock has 1-in.-deep grooves and eliminates the need for gluing or taping
2.5 in. of 1.5lb./cf density EPS foam on each side of the form
Can withstand internal vibration
6-in. on-center web placement
Amvic Building System
The Vertical ICF
ICF wall form designed for both above and below grade, residential and commercial
Unlike shape-molded block ICFs, poly panels are made completely separate from the plastic I-beams which allows for various wall thicknesses
TF System
Fox Blocks
4-, 6- and 8-in. core widths
Variety of blocks available, including corners, angles and t-blocks
25/8-in. EPS panel thickness
For residential and commercial, above and below grade work
Airlite Plastics Company
Fold-Form
Preassembled with patented folding design for lower shipping costs
2-in. EPS per side, continuous poly¬styrene
Build concrete walls 4 to 16 in. thick
ICF Expert (ICFX) training program available
Owens Corning
GBLOX Panel System
"Knockdown" field-assembled ICF system
Designed for use with Greenblock's fixed-web corners to ease corner assembly procedures
Available in 6-, 8- and 12-in. widths
Designed for above- and below-grade construction
Brickledge product also available
Greenblock, Inc.
Logix Pilaster ICF
Specialty form that allows pilasters in the ICF wall
Reduces cost of constructing high walls
Use with Logix's full line of residential and commercial ICFs
Logix
Xillix ICF
Designed to meet or exceed building code requirements
Available in two core widths: 9.25 and 11.25 in.
Quick stacking with fully reversible forms
Tritex
Quad-Lock R-32 ICF System
Panels available in widths of 21/4 in. for interior and 41/4 in. for exterior; uneven insulation shifts thermal center closer to house for increased energy savings
No custom or special-order components
Best suited for energy-sensitive residential and light construction projects
No CFCs or HCFCs in mfg. process
Quad-Lock Building Systems Ltd.
FossilCrete Vertical Stamping System
Custom vertical texturing mix and line of tools and stamps designed specifically for vertical concrete stamping
Can be applied over ICFs, OSB/plywood, wire lathe or stucco mesh, cement block, etc.
Variety of stamps available, including Log Cabin, Bamboo, Great Wall of China, and several stone and brick options
Also can be used to create custom murals, boulders, bridges, trees and more
FossilCrete
ICFVL Ledger Connector System
Engineered to solve the challenges of mounting wood or steel ledgers to ICF walls
Provides vertical and lateral, in-plane performance
Embedded legs of the ICFVL are embossed for additional stiffness
Concrete can flow through and around the connector
Simpson Strong-Tie
Handi-Stick Foam Adhesive
Pressurized polyurethane foam

construction adhesive

Won't degrade polystyrene
Designed for use with ICFs, architectural foam shapes and moldings, and foam boards
Airtight seal
One can contains 1,000 lineal ft. of adhesive bead
Fomo Products, Inc.
Ecobase
Water-based, polymer modified waterproofing membranes
Designed for use with ICFs
Highly flexible, seamless and fully bonded, environmentally friendly and ICC-approved
May be applied to a variety of surfaces, including green concrete and damp substates
Epro Service
Ultra Shield ICF
Water-based, polymer-modified coating designed for use below grade on ICF foundation walls
Engineered to meet or exceed the performance properties of the best polymeric waterproofing coatings
Excellent adhesion to foam forms
GMX, Inc.