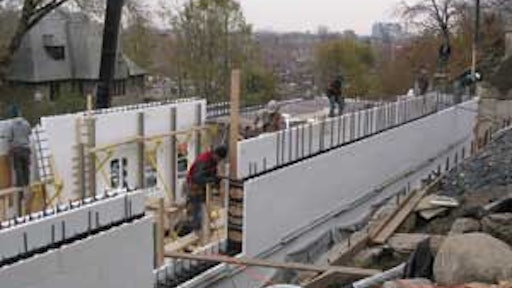 Hurricanes. Tornadoes. Oppressive heat. Bone chilling cold. Sooner or later, every home in the United States will be affected by at least one of these weather conditions. But there's a home construction method that can take almost anything Mother Nature can throw at it — insulating concrete forms or ICFs.
What are ICFs?
ICFs are typically made of expanded polystyrene. An ICF system provides an exoskeleton for creating the reinforced concrete wall. "The way the forms are designed, reinforcement bars can be spaced in a specified arrangement or grid, so the architect can specify the steel to withstand wind loads, projectiles, excessive backfill pressures and multistory," Jim Buttrey of ICF manufacturer IntegraSpec explains. Depending on the ICF form manufacturer, webs or spacers made of plastic are inserted between the forms in the factory or on-site to hold the forms in place. After being set up and reinforced, concrete in a standard wall mix of 3,000 psi with a 5- to 6-in. slump is poured between the forms. The concrete core thickness can be varied as needed based on project requirements.
The forms come with built-in furring strips so the outside of the house can be finished with any desired material, while the inside gets the normal drywall. "They're used for sheetrock, siding, masonry with brick ties, and the furring strips are buried for stucco friendliness," says Buttrey. Another benefit of building with ICFs is that fewer trades are needed to complete the job, as the wall structure, furring, vapor barrier, insulation and air barrier are all done in one step by one crew.
Concrete contractors who already know how to build masonry or poured concrete homes can learn how to build with ICFs in one week. Manufacturers support users in several ways. For example, IntegraSpec provides technical manuals online, as well as offering help from its regional representatives and in-house training department.
Weather protection
The basic North American configuration of a residential ICF wall is a conventional 6-in. wall containing a 1/2-in. steel grid. Buttrey says this wall can withstand wind speeds of up to 150 mph. With thicker walls and more steel, higher wind resistance is achieved. The walls are also highly resistant to flying projectiles. When a 2x4 was shot at an ICF wall at 100 mph, the wall was not penetrated.
This suggests an ICF house will remain standing during almost any hurricane or tornado. The Grand Caribbean Condominium in Orange Beach, Ala., was built using ICFs, and it sustained almost no damage during a nearly direct hit from Hurricane Ivan. Single-family homes and other ICF buildings designed by the same ICF contractor, IntegraSpec Gulfsouth, also had no structural damage from Hurricanes Ivan and Katrina.
These results cannot be compared directly with masonry or poured concrete homes because "typically in this area they don't build concrete homes," explains architect David Lindsey. "All of our competition is wood frame. There is nothing else standing there on the water. They've completely lost their homes."
Although he didn't build it, Lindsey has seen an ICF condo on the beach in Biloxi, Miss. Built in 1999, it was surrounded by wood frame buildings, but it's all that remains after Katrina. The building was affected by the storm surge and needed some repairs, but the owners were able to live there while those repairs were made. "People who have looked at it said there could not be anything else to build with than ICF after seeing this building," he notes.
"In certain areas, if a home is destroyed by a hurricane, the insurance company requires the replacement to be an ICF home," Buttrey points out.
ICF homes might even serve as hurricane shelters under certain circumstances. "What we tell people is if you're in a flood plain, we're building a home to protect your property," Lindsey cautions. "You need to leave. In an upland area, depending on the design, it might be a safe place to stay. "
While no ICF homes built by Denny Yeackley of D & M Building Systems have been hit by tornadoes, he knows of other ICF homes that were and they were essentially unaffected. Jim Hymbaugh of Hymbaugh Construction also works in a tornado zone. He cites a June 2004 tornado that destroyed an entire neighborhood in Kansas City, Kan., except for one small ICF house. Although there was a little damage to the vinyl siding, a few missing shingles, and broken windows from flying debris, the residents could have moved back in as soon as the power was turned on. "If the walls don't fail, the roof doesn't usually leave," he points out.
Energy efficiency
In these days of ever-increasing energy costs, the efficiency provided by ICFs is attractive. According to industry figures, occupants can save up to 70 percent of their energy bills for cooling, heating and dehumidification because of air infiltration control and insulated thermal mass.
But there is consumer resistance to building with ICFs because the initial cost can be up to 10 percent higher than other materials. The payback period for this extra investment is from two to five years, depending on energy prices. Yeackley, who builds with both The Standard Wall and Reward Wall Systems ICFs, says many consumers are sticking with the familiarity of wood frame homes with their traditional insulation, even as they embrace energy-efficient windows.
"People have trouble with that higher upfront cost," Hymbaugh says. "Anything you do that saves energy is going to save you money. Some lenders are recognizing those energy savings and will loan a little more money toward the house. Because the heating and cooling costs are lower, people can afford a bigger monthly payment."
In his area, where temperatures drop below zero during the winter, energy costs increased over a third last year and most heating bills doubled. His customers have reported spending only $500 for a winter's worth of heat compared to $350 per month for conventional homes.
"The houses most people are building today, they won't be able to afford to live in 20 years from now because they'll be too costly to heat," he notes. "It's hard to convince people to build a house that's as energy efficient as possible."
Hymbaugh also builds new and replacement home basements using ICFs. Having an ICF basement in a regular home provides some energy savings, as the building code requires R-10 insulation for basements and ICFs come with R-22+ built in.
Other benefits for consumers
People with allergies and asthma will enjoy living in ICF homes because they are free of volatile organic compounds from chipboard and release oil. "These homes are relatively airtight, so there are no outdoor pollens and pollutants entering the home," Buttrey says. "Because of the insulated thermal mass, there's no dewpoint transfer to create condensation and therefore no risk of mold."
ICF homes are also much quieter than other types of homes, so occupants won't hear sirens, traffic and outdoor sounds. While the standard American home has a 10- to 30-minute fire rating, ICF homes are rated at up to four hours depending on wall thickness.
Other benefits for contractors
Cold weather can make building difficult or impossible in winter for northern contractors, but that's not a problem with ICFs.
"We can pour concrete down to 15 degrees below zero and it won't hurt it, so we can work all through the winter," Yeackley says. "Concrete creates its own heat when it starts setting up, so it won't freeze inside the ICF forms."
Hymbaugh describes working with ICFs as much easier than doing structural concrete using hard forms, which his company did until four years ago. Because ICFs are not removed, there is no need to cover them with release oil. His workers have fewer injuries because the ICFs are so much lighter than the old forms.
"The work is much less stressful and cleaner than with regular forms," he says.
There is no need to store the forms or move them between jobs since they are not reused. The upfront investment for forms is also much lower, with ICFs costing about $7,000 to $10,000 per home compared to $150,000 for traditional, reusable forms, Hymbaugh says.
More education needed
About 60,000 ICF homes are built in the United States annually today and the number increases each year, but there is still significant resistance from some in the industry.
"The biggest problem we have is with building officials and architects," Hymbaugh says. "They don't want to do something different than they did last week. What we've seen is that it's consumer driven. The homeowners are demanding that their homes be built out of concrete."
He says consumers interested in saving energy are learning about ICFs through TV programs, home shows and Internet research.
"It's not an easy sell because it's different," says Lindsey. "It's not what their parents lived in or what their neighbors lived in."
Jean Feingold is a Gainesville, Fla.-based writer who frequently covers concrete and other construction-related topics.
Tritex Xillix
Xillix insulating concrete forms from Tritex are designed to meet or exceed building code requirements.
Available in two core widths — 9.25 and 11.25 in.
Quick stacking with fully reversible forms
Arxx ICFs
Arxx Walls & Foundations insulated concrete forms offer energy savings, sound resistance and ease of installation.
Reinforced with steel rebar
Four-hour fire rating, far surpassing wood frame construction
Energy savings of up to 50 percent compared to traditional construction methods
Nudura forms
Nudura forms are lightweight, easy to maneuver and come to jobsite preassembled using Nudura's hinged folding web.
No on-site assembly required, saving on labor
Patented locking mechanism stops float and compression and eliminates need to secure forms with tape or wire
Larger than traditional blocks, covering 12 sq. ft. for a sturdier wall form
IntegraSpec ICFs
The IntegraSpec system consists of stay-in-place expanded polystyrene form units suited for commercial, industrial, institutional and residential construction.
Patented interlocking system eliminates concrete blowouts
Now available with 5-in. web that, when combined with 2.5 in. of insulation on both sides, matches the standard 10-in. concrete masonry unit
Amvic AmDeck
Amvic's new AmDeck Floor and Roof System is a modular, lightweight, stay-in-place form for the construction of concrete floors and roofs.
Made of expanded polystyrene
Part of a full line of products for concrete construction, including ICFs and EPS insulation systems
BuildBlock ICFs
BuildBlock insulating concrete forms are fully assembled, completely reversible and have convenient molded-in cut and measuring lines.
Strong interlocking connections and high-density plastic web ties located 6 in. on center for extra strength during concrete pour