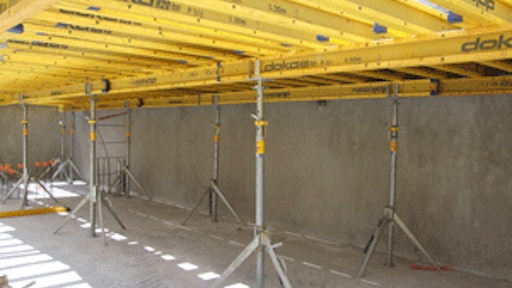 By Michael Schaeffer, Senior U.S. Product Manager with Doka USA, Ltd.
Formwork, the temporary or permanent molds used to hold wet concrete until it sets, is a crucial element in concrete construction. Just as important is selection of the right formwork, as it greatly affects the schedule, labor requirements, quality and total cost of a project.
Over the years, formwork molds have evolved from traditional job-built timber to pre-engineered systems composed of a combination of steel, aluminum, manufactured timber, plywood and plastics. These advancements in formwork molds have led to increased jobsite production and safety, with less labor, while producing a better-finished product.
Formwork Trends
Less than 15 years ago, there were approximately a dozen major formwork systems readily available in the U.S. However, over that short time period, an influx of European forming companies has entered the U.S. market, more than doubling the number of systems available.
The increase in competition is pushing innovations to a rate previously unseen in the industry. Thirty-year-old systems that have enjoyed wide use and popularity are being supplanted by new, modern systems that offer greater productivity and a higher quality product.
Walls — Presently, the most prevalent system in use for handset wall forming are steel-framed, wood-faced panels that require consumable ties at 2-feet-on-center and one connection per square foot. These are being replaced with larger, two-person handset systems that require less labor and eliminate consumable purchases with the use of reusable taper ties. Gang forming has completely changed over the past 10 years. Older systems of steel framed wood or steel faced panels with double channel stiffbacks that connect with bolts/pins have been overtaken by clamp connection forms with wood or plastic form faces that provide tremendous labor savings in assembly and use. These standard systems assemble and reconfigure very quickly to meet changing structure dimension while also providing a consistent concrete finish.
Slabs — The use of fixed or adjustable wood posts, stringer and joists is still the most common method of shoring in the U.S. This method, passed down from generation to generation, requires substantial labor. Because the posts are placed as close as 2-feet-on-center, construction sites become very congested.
A new construction method featuring engineered lumber and metal posts increases post spacing up to 5 feet by 10 feet, and uses components that are systematic and reusable. This increased spacing allows for less material on site when forming the same slab area. Less material means reduced handling requirements, less labor to set up and strip, lower transport costs and an increase in overall jobsite productivity.
The current method for gang-forming slabs is to use trusses or structural decks, which require a substantial amount of time for assembly and disassembly. Moreover, they consume an enormous amount of crane time, making overtime for resetting a standard operating procedure. The customer must also purchase the plywood facing and sometimes replace it multiple times on the same project. Because of the expense of setup and takedown, they are used mostly on structures taller than 15 stories high. Smaller tables, delivered to the jobsite fully assembled with plywood, are becoming a better solution to these systems, especially for mid-rise buildings where gang forming was previously not economical.
Another job site innovation that reduces jobsite crane time and formwork labor requirements is formwork lifting elevators that mount to the exterior of a building, allowing all formwork to be cycled from floor to floor without the need for a crane. These table lifting systems are used in conjunction with the smaller table method and also allow for other construction material including handset shoring, vertical formwork and reshores from below to cycle from floor to floor with the need for a crane.
As new innovative products are continually entering the marketplace, learning about them and how they affect the construction process is a continuous process. For example, a fairly new product being used in the construction process on high-rise structures is protection screens. They fully enclose a building's slab edge, providing a completely contained safe and more productive working environment. These systems anchor to a slab edge around the perimeter of the building. Another example in high-rise structures is the increased use of self-climbing formwork used on cores and shear walls. When these systems are used in the construction process rebar design needs to be considered, as anchoring of the formwork becomes a critical factor.
Selecting the Right Formwork
Because conditions vary for each individual project, there is no simple formula for choosing the right formwork supplier or system. Formwork typically accounts for 40-to-60-percent of the total cost of a building's structural concrete frame. For concrete walls, the cost can be in the 50-to-60-percent range. These percentages include the cost of material and labor, with the largest cost for labor. It is important to analyze labor costs thoroughly, as this is the bigger number and reducing this number will have a much greater impact on bottom line costs.
To help determine the most efficient solution for a project, a contractor will evaluate several forming systems. As available and capable labor shortages continue in the construction marketplace, it has become even more important to select the right forming system. Simply stated, a contractor has two choices: an inexpensive forming material that is labor-intensive or a forming system that while costing more, provides high productivity, built-in safety features and is more labor efficient.
Other factors the contactor will evaluate when choosing a formwork system include:
Is the material you require readily available? Does the supplier manufacture the material or do they purchase it from another company?
Can the formwork supplier pre-assemble some or all of the formwork prior to delivery? This can reduce rental cost, save labor requirements and minimize assembly area requirements.
Does the supplier provide on-site field service to train and reduce the learning curve of the formwork crew?
How safe is the system to install, use and dismantle? Can the forms easily be climbed and are tie-off points built into the system where required?
What experience does the firm have with your type of project?
Does the supplier offer engineering services? Will the supplier provide formwork assembly drawings specifically for the project or only provide general drawings of the system?
Another consideration is whether to purchase or rent a system. This decision should be based on the duration of the project and the overall strategy of the construction company. Typically, if a form system has to be rented for more than 8 to 10-months, purchasing the system might be more economical. However, along with the purchase of a system, there are additional costs such as maintenance and storage. Some formwork companies, however, offer services for customers who purchase their equipment.
The quality of the product also must be considered in the decision-making process. Steel-framed wall formwork with standard plywood facing will require more maintenance and repair throughout the life of the form than hot-dipped galvanized steel frames with specially manufactured plywood designed for longer life.
Forming a Relationship
In order to consider formwork in the overall design, it is important for the structural engineer to have a good handle on the standard products available in the marketplace. This can be accomplished by contacting the major formwork suppliers. They are more than eager to provide assistance to educate the industry on forming products available and how the structure's design affects overall costs.
Contact formwork suppliers at the very early design stage of the project. This can allow for as much information as possible to be incorporated into the bid documents, which will provide a more accurate cost to the owner. Formwork suppliers can advise on sizing structural concrete members to meet standard form dimensions. And, because major form suppliers typically are involved in a large number of projects in a wide variety of construction markets, they can draw upon their resources to suggest formwork means and methods.
Also of importance is to ask concrete forming contractors to be involved early in the design stage of the structure. They are ultimately the people who will be physically building the structure and can provide a tremendous amount of knowledge as to the most economical means and methods.
There are many considerations to take into account when designing a concrete structure – and considering formwork is of prime importance. Product quality, material and labor costs, and worker safety are all part of the total cost of forming. With better, faster and safer formwork available, designing for the formwork is a crucial component to ensuring the success of an economical concrete construction project.
Michael Schaeffer, head of product management for Doka USA Ltd, has been in the industry for more than 15 years. A formwork professional, Schaeffer's career also includes engineering, sales, operations and regional management. Today, Schaeffer's responsibilities include companywide sales/product training, product development, new product rollout and liaison with marketing for all trade show planning and execution. He can be reached at 877.365.2872 or Michael.Schaeffer@doka.com.
About DOKA:
With 50 years experience in formwork engineering, Doka serves customers in more than 65 countries and has participated in construction of some of the world's best known structures including the world's tallest skyscraper (Burj Dubai), the Hoover Dam Bypass bridge, along with many other projects of all sizes. From wall and slab formwork systems to automatic climbing technology and superior safety solutions, Doka can deliver any type of formwork needed for residential, industrial, commercial, transportation, infrastructure as well as stadium and sports arena projects. For more information, please visit www.dokausa.com, or call 877-DOKA-USA.