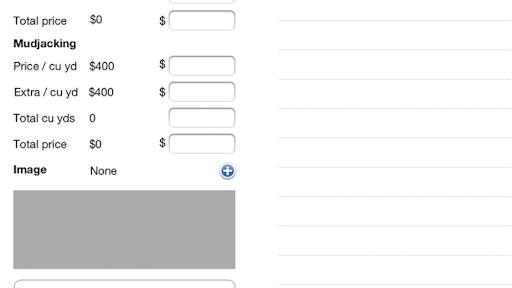 HMI, a manufacturer of concrete lifting and leveling equipment, introduces the HMI AppStimator, a new estimating app for the iPad. The app is designed for contractors involved in mudjacking (slabjacking) and/or polyurethane foam lifting. A contractors can customize the app by adding a company logo and pricing schedule.
The HMI AppStimator allows a contractor to type in dimensions of settled concrete, then generates the amount of repair material needed along with the cost of the repair based on the contractor's customized pricing. The app creates professional, paperless estimates that can be emailed to a customer. Contractors can also integrate jobsite photography into the project estimates.
Jen Mazur, sales and marketing with HMI, says the company has been testing the app in the field for several months, and the results and customer feedback has been positive. "We are very excited about this launch," Mazur says. "It is the first app of its kind and will really revolutionize the way contractors present their estimates."
To learn more about the HMI AppStimator visit the HMI website. The HMI AppStimator can be ordered by calling 800-626-2464.
Companies in this article