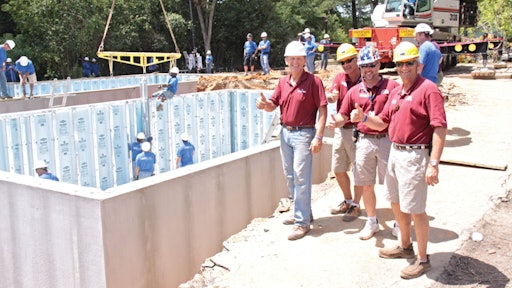 HAMILTON, MI -- Greystone Homes has become the first builder in Michigan to install a Superior Walls Xi precast concrete foundation. This home, which is featured in the Midland Home Builders Association Fall Parade of Homes, October 1-2 and 8-9, is part of Greystone's "Cherry Tree" line of semi-custom homes offering energy efficiency, design excellence and enduring craftsmanship at an affordable price.
The 1,550-sq. ft. home, located at 4655 Talon Drive in Auburn, is just one of 14 homes being showcased in the Midland Home Builders Association Fall Parade of Homes during the first two weekends of October. Features of the home include three bedrooms, a granite kitchen with island, mudroom with pantry closet and bench, and a large great room with stone fireplace.
 "The entire home sits on the energy-efficient Xi precast concrete foundation," says Wall, owner of Greystone Homes. "These walls include 2.5 inches of foam insulation (the equivalent of a 12.5 R value) to provide homeowners with comfortable living space. These are the same top-quality foundation systems that Superior Walls has provided as a supporter for the homes created on ABC-TV's Extreme Makeover: Home Edition.
Energy-Efficient Foundations
Top-of-the-line Xi wall panels feature steel reinforced concrete and 2-1/2-inches of DOW Styrofoam insulation. The panels are custom designed and constructed in a factory-controlled setting. Unique features of the Xi wall panels include: 
5,000+ PSI concrete
Steel-reinforced top bond beams, concrete studs and footer beams
Horizontal steel rebar inside top and bottom beams
Vertical steel rebar inside each stud
Access holes for ease in wiring and plumbing
Galvanized steel stud facing ready for drywall finishing
Insulated corners, studs and bond beams
"Superior Walls products are resource efficient, using up to 70 percent less concrete in a new home than conventional foundations," says Jim Costello, president of Superior Walls. "Stud facings eliminate the need for additional wood framing prior to interior finishing. Using fewer materials helps reduce the carbon footprint of the new home's construction process."
For homeowners, the benefits of Superior Walls foundations systems are substantial. The energy-efficient walls help lower energy costs and reduce energy leakage while providing increased living space in a comfortable setting.
"There are many energy efficiency advantages to both homeowners and builders for using this Green Approved product," says Costello. "These wall systems help improve the indoor air quality in a dry basement setting along with enhancing the resale value of a home."
Superior Basement System
"We believe the Superior Walls foundation really sets this home apart in the marketplace," says Wall, an ENERGY STAR partner builder. "The extra living space allows people to designate the space as a 'children zone' to remove clutter and noise from the rest of the house or use the space as a home office. Having basement space that's comfortable and functional makes so much sense for homeowners. By making the right decisions at the time of construction to use pre-cast insulated foundation systems, we're providing the homeowners with long-term benefits."
The insulated precast walls systems supplied to Greystone Homes by Great Lake Superior Walls have earned the Green Approved Product designation by the National Association of Home Builders (NAHB) Research Center. Built in a factory-controlled environment in Hamilton, Mich., each panel is custom-created for the specific design of the home.
"The unprecedented advantages of using the Xi walls shine through as advantages for our customers and align with our goals of creating quality craftsmanship in all our homes," says Wall.
For more information on Greystone Homes, visit www.greystonehomes.biz. Additional details for the Fall Parade of Homes can be found at http://www.hbamidlandmi.com/sites/courses/custom.asp?id=1027&page=59821 and Great Lakes Superior Walls information at www.greatlakessuperiorwalls.com.