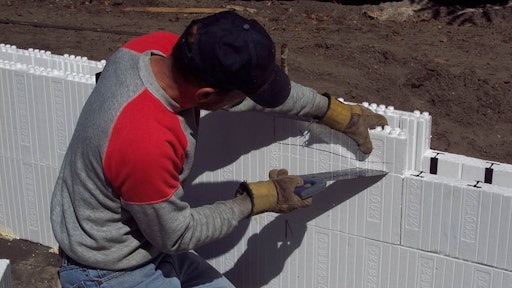 Two recently completed single-family, green and affordable homes for Habitat of Seminole County used Greenblock Worldwide, LLC's Insulated Concrete Forms. The homes are located in the central Florida neighborhood of Altamonte Springs.
The two homes were built side by side each with 1,556 square feet of Greenblock ICF wall, one to the Florida Green Building Coalition's (FGBC) green building rating system and one to the U.S. Green Building Council's (USGBC) LEED rating system. The LEED Home is anticipated to achieve Gold certification. Greenblock 2-4-2/4 inch core product was installed.
The structures are Habitat Seminole's first LEED and FGBC registered projects. Nearby Evergreen University provided many of the volunteer ICF installers on one of the homes while local Habitat Seminole volunteers rolled up their sleeves to build the other one.
Once the households were occupied during the summer of 2011, the new home owners reported more than a 75 percent drop in utility bills compared to their last residences, going from over $400 per month to less than $100 electricity bills. Deeper savings can be achieved with lower insurance costs due to reduced property damage during natural disasters in an ICF home. A Greenblock ICF wall has a solid concrete core providing a hurricane, tornado and seismic resistant home.
Numerous savings were recognized with Greenblock ICF, including time of construction because it can be installed faster than concrete blocks or wood frame construction methods. The ease of fitting blocks together and factory produced pre-engineering means less construction site waste. Furthermore, furring strips are built-in from the inside and outside; the self-contained vapor barrier eliminates the need for a house wrap.
Companies in this article