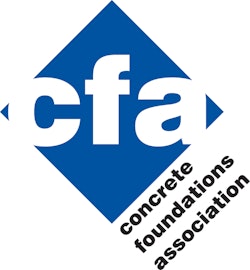 Submissions are open now for the Concrete Foundations Association (CFA) 2013 Projects of the Year competition. The annual event is open to members of the CFA. The awards honor the year's best cast-in-place concrete construction projects. Some of the categories include Single Family Residence, Commercial/Multi-Family and Above Grade Concrete Home. Entries are due by December 28, 2012.
CFA Technical Director Jim Baty says the awards program offers contractors a free marketing opportunity in a tough economic climate. "What better way to push your company's marketing message forward in 2013 than with participation in the CFA's 2013 Projects of the Year," Baty says. "Companies from across the country have found that one of the best ways to demonstrate quality and achievement to customers is through the recognition that comes from the professional body of your peers."
Projects will be on display at this year's CFA World of Concrete booth, #4537 in the Central Hall, as well as online for convenient voting. Entrants to this year's awards program are offered a time slot in the CFA booth to be present and discuss their projects along with answering questions from anyone in attendance that is interested in learning more. 
Click here to visit the CFA website where you can download an entry form and view recipients from past years.
Companies in this article