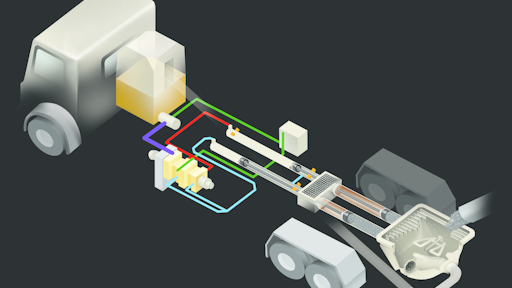 Beginning this summer, Putzmeister America, Inc. (Putzmeister) will be changing the .12L pump cells in all of its new deliveries of truck-mounted boom pumps in the 20Z- and 30Z-meter classes to .12H pump cells, allowing for a higher delivery pressure and increased parts commonality.
The .12H pump cells will offer the same volume output as the .12L did, but delivery pressure now will be 1,233 psi (85 bar), up from 1,015 psi (70 bar), further accommodating harsher, thicker mixes and offering more pressure for long distance pumping applications.
The new cells will also allow for increased parts commonality, as the .12H pump cell is the same as the .16H pump cell, with the exception that the .12H only uses one hydraulic pump instead of two. As a part of this change, all export units with .12H pump cells will now be upgraded to the new, more rugged RS 909 hopper that is already standard on all domestic units.