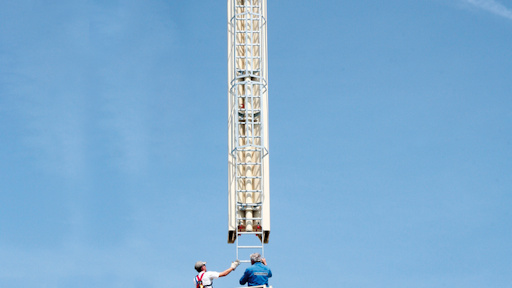 Putzmeister America, Inc. has introduced its new RS 850 Tubular Column Placing System, which features a fully automatic self-climbing system, and easy-to-assemble, compact design for high-rise pumping. The new tower placing system's one-sided, mechanical climbing system ensures greater flexibility and ease-of-use, as it is automated and does not need to be moved manually.
Reach great heights using various climbing and mounting equipment configurations
Five mounting equipment configurations available
Ballasted base works best on spacious job sites, while the cruciform and compact bases, and base plates provide options for more congested environments.
Uses a pin connect system that is easier to assemble. The pins can be reused for efficiency and cost savings.
The M-profile design incorporates the climbing and delivery systems into a smaller footprint — one meter by one meter — so it is easier to create and repair holes.
Much of the tubular column and safety platform can be assembled at ground level.