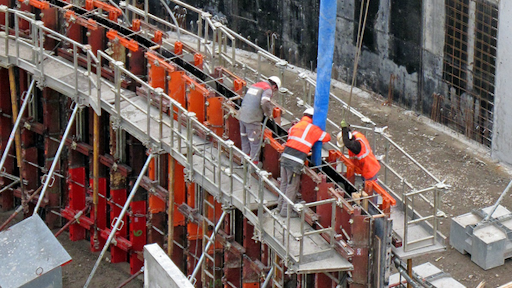 It is clear to those reading the impressive list of references of the company from Steinach that the employees in Kinzigtal are experts in concrete formwork: the Mercedes stand at the Nürburgring, dams in Algeria, the palm tree-shaped residential area in the main street built into the sea in Dubai, the Samsung Museum in Seoul, the so-called FohlenCampus or Foals Campus of Borussia Mönchengladbach, to name but a few projects. In all construction projects, the concrete was shaped using formwork from Steinach.
No matter how winding, diverse and extravagant the shape is, PASCHAL never fails to impress even in tricky cases.
"Anyone can form in straight lines and right angles around the corner; true expertise first becomes apparent when forming round and curved shapes, and when forming free-form surfaces", Barbara Vetter, Managing Director of PASCHAL, says proudly.
Shapes that are perfectly rounded, wild and winding, with all kinds of angles, or even freely designed by the architect and engineers. Whether a family home or a skyscraper, a bio-gas plant or huge infrastructural projects, PASCHAL form work is used by customers in Germany and world wide.
It all began in 1964, when Josef Maier came up with the idea of modular systems for concrete formwork that could also be reused. Previously each formwork was individually made of wood and then disposed of later. The breakthrough came with the PASCHAL system, comparable to a modular system with various parts that can be combined with each other.
The various large panels consisting of a metal frame with a smooth wooden or steel plate can be connected together and allow each formwork shape to be built in just a short period of time. After they have been dismantled, completely even concrete surfaces can be seen and of course, if requested, high-quality fair-faced concrete.
"Today our services in concrete formwork are just as important as our perfectly processed panels, the frames of which last for up to 30 years," says the head of PASCHAL, Barbara R. Vetter, who took over the company from her mother Gertrud Maier.
Customer-oriented service
The software company, Planitec, belongs to the PASCHAL Group since 2008. Here, special software systems are developed that encompass all functions necessary for the perfect planning and organization of building processes: automated formwork planning with PASCHAL-Plan light, differentiated AutoCAD form work planning with PASCHAL-Plan pro and the use of RFID technology (Radio Frequency Identification) with PASCHAL Ident for the organization and administration of modern formwork parks.
This means that for the formwork panels that can be purchased as well as rented specific to the country, there is planning software that evaluates the ideal combination of the different panels and prepares an exact material list, stating the parts and accessories required. "This significantly reduces working time on the building site and, in turn, saves money," says Civil engineer Hans-Peter Steiner, who is in charge of instructing customers and new employees to become familiar with the world of concrete formwork in PASCHAL's own exhibition hall.
PASCHAL Ident chip technology
A very clever idea has been added to the software: Every formwork panel of the PASCHAL Modular formwork and PASCHAL LOGO.3 standard series has a chip built into them, a transponder that marks each individual panel. The reader and software allow all formwork panels to be electronically managed in an organized manner.
Perfect circles with the Trapezoidal girder form work
The many possible applications of the Trapezoidal formwork systems put PASCHAL in a globally prominent position, as this formwork system allows perfect curvatures with any radius to be formed precisely, simply and quickly.
The Trapezoidal girder formwork can be continuously adjusted, for diameters of 2 to 5 m and from 5 m to infinite. It can be adjusted both horizontally and vertically. With only 0.28 to 0.55 ties/m² it is conducive to accelerate construction progress.
Steel or aluminum
Most parts, particularly special solutions, are manufactured in Steinach. For welding specialists, precision is a top priority. Particularly special fabrications that allow any desired shape of concrete to be made have become significantly more important in recent years according to Barbara R. Vetter.
But even the "classics" such as the Modular/GE form work are still in great demand. "The frames of the large-size form work LOGO.3 are connected using state-of-the-art robotic welding", explains the production manager in charge, Industrial engineer Ralf Neff.
Research and development with a flair of usefulness
Our in-house development department finds itself more and more challenged as shape and application requirements constantly change. This is why there are also light panels in the LOGO.3 series that are made of aluminum and can be transported manually, for example, to any inaccessible building site. An increasing number of new shapes are developed as the requirements of construction and bearing structures and the wishes of the client challenge architects and engineers and therefore the contractors who can always rely on PASCHAL for support.
One new development is, for example, the dismantling inside corner post which was presented at the most recent international construction trade fair "bauma."
Even this addition to the LOGO.3 formwork systems and the Modular formwork is highly practical. When constructing the shell, the dismantling inside corner post with movable wings greatly reduces time required to form and move the inner formwork for lift shafts, stairways and structures with tight spaces, and is well received by concrete workers.