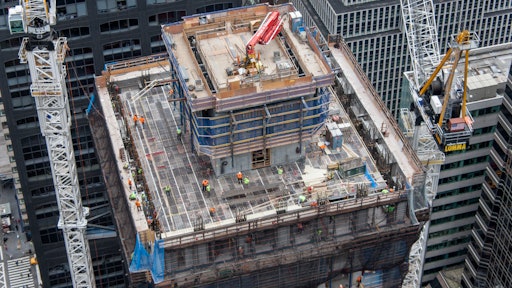 Doka North America will be exhibiting More Than Just Formwork at ConExpo-Con/Agg 2017. Demonstrating the latest in concrete formwork technology, Doka will showcase wall, slab and climbing solutions and services ranging from engineering, field support, pre-assembly and project management. Additionally, Doka will display advances in technology, such as the Concremote sensors that enable contractors to strip formwork earlier than ever before. Concremote and Doka will also be featured in the new Technology Experience pavilion.
"Doka shows contractors the most reliable, cost-effective and advanced methods for concrete construction today that are proven to provide safe, successful and profitable end results on their next high-rise, power, bridge, tunnel or infrastructure project," says Michael Schaeffer, vice president of sales North and South America.
Formwork Showcased
Stop by Doka Booth #G1622 at ConExpo, where Doka is showing the next generation in climbing formwork technology, the Super Climber SCP system. The Super Climber was recently used on the tallest residential building in the Western Hemisphere, 432 Park Ave., N.Y., and is now in use on Central Park Tower – the next tallest residential building in the world – as well as hundreds of additional projects across the continent.  
The revolutionary new Dokadek panellized floor formwork system, an innovative new stripping corner that will prove to be the fastest and easiest way to strip cores will be displayed. Also, capabilities in custom formwork applications and time-saving pre-assembly formwork can be seen, such as those used on Muskrat Falls and Keeyask Hydro Generating Facilities in Canada.
The indisputable No. 1 handset formwork system on the market, Frami Xlife – used on projects across North America for its light weight, superior strength and long lifespan – can also be seen at the booth.   
"If safe and fast-paced construction are the goals for your projects, selecting the right formwork is essential to success," says Andrew Mair, director, North and South America, Doka. "From product design and development, engineering, project management, field support and more, Doka is the key to your success. It's not just formwork. It's Doka."
Stop by the Doka Booth #G1622, located in the Gold Lot to learn about Doka products. Look for the Schwing pump displayed on top of our Super Climber! For more information on products at our Doka booth, please visit our ConExpo/Doka website for an additional exhibit summary. http://bit.ly/2hOymGq