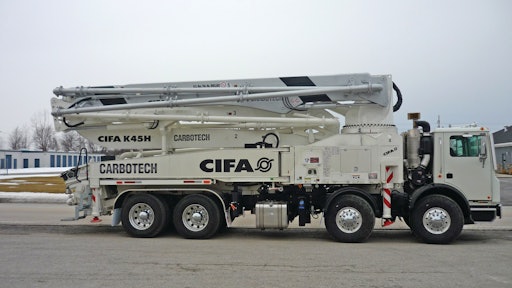 Irving Equipment is offering a new model of the carbon fiber concrete boom, the CIFA K45H. The first three booms are fabricated from high-strength steel and the last two sections are made from carbon fiber.
5-section R-Z style boom system with Valme 5-in. metric pipe along the entire length.
HPG 1408-IF9 has an output of 185 yards per hour (1,160 PSI) using 9-in. pistons and a 9-in. S-tube.
Cutting ring and wear plate are easily serviced from inside the hopper without moving the S-tube.
Comes standard with an HBC brand remote control system which includes a main and a back-up handset.
 Rear panel uses a touch pad covering so concrete, water and chemicals cannot penetrate the control box.
The K45H installed on a 4-axle chassis weighs about 73,000 lbs.
Request More Information
Fill out the form below to request more information about
Carbon Fiber Concrete Boom - CIFA K45H